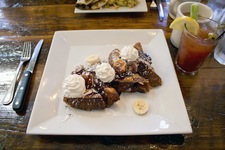 Lindsay emails:
I just moved to Schenectady, and I'm wondering if anyone has good recommendations for brunch spots (especially those with bars) for Saturday/Sunday mornings.
I've tried Union Cafe, which has fantastic service, darn good pancakes, and tasty Greek eats. Eating on the patio in the sun is nice (although the view leaves something to be desired), and there is no alcohol served (i.e., cravings for a bloody mary or mimosa go un-quenched).
Any tips from the AOA community would be greatly appreciated.
Lindsay mentions that she's been following Lauren's brunch mini-tour. But that hasn't made it to Schenectady, yet. So if you have suggestions for Lindsay, they can also double has possible spots for Lauren to check out.
So, got a good place in mind? Please share. And, as always, a sentence or two about why you're suggesting that place is like an extra kick of horseradish in the Bloody Mary.
Hi there. Comments have been closed for this item. Still have something to say? Contact us.