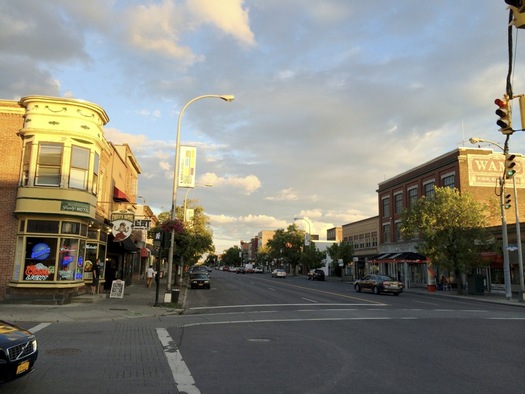 What direction should Central Ave take? What are the possible destinations?
Those questions about direction -- metaphorical rather than geographic -- were the theme of a discussion this week about the corridor's future as part of the ongoing ReZone Albany effort.
"There seems to me, from the perspective of traveling around a lot, that there is a lot of untapped economic potential in this area," Jason King, from the architecture and planning firm Dover Kohl, said about Central Ave after Wednesday's public presentation at The Linda, the culmination of a three-day intensive look at the corridor. "And I do actually think it's inevitable that it will come. And the question is when it does, what form will it take. Will it be respectful of what's here or will it be intrusive. Will it be fought or will it be integrated and appreciated."
Here's a look at some of the potential visions presented for one of Albany's main arteries, along with a few thoughts.
Possibilities
Renderings of some of the potential visions for the future Central Ave that were presented at the public meeting are above in large format -- click or scroll all the way up.
A few bits
Form-based? What?
A core component of ReZone Albany project is something called "form-based code," and it's been part of the discussions for both the Warehouse District and now Central Ave. Dover Kohl is the firm that's assisting on that part of the project.
So, what is it? Well, boiled down -- a lot -- form-based code is an attempt to design zoning standards with an eye toward the shape and feel of a place, rather than specifics about how it's used.
"We're a lot less concerned about uses. So offices can be above houses, or houses above shops. Our concern is with the actual form of the building. How it interacts with streets, what the pedestrian experience is like, the character of the buildings, the height is important," Jason King explained to us Wednesday. "We allow whatever to happen happen, whatever the market wants to see -- provided it follows certain rules. And the rules involve protecting and enhancing historic, walkable areas. And caring a lot more about the look and the way places work."
From one perspective, form-based code is a response to the way suburban design -- of, say, a fast food location, with a big parking lot and drive-thru -- has often been dropped into a city with little regard to the surrounding built context.
The midtown
King travels around a lot for work. And in Central Ave he says he sees Albany's "midtown" -- an area not unlike those that have seen development in recent years just outside the downtowns of places such as Dallas, Miami, Oklahoma City, and Berkeley. In part, he says, those areas have drawn development because they're more flexible than downtowns, which are often already densely built or otherwise hard to build in. Those areas are also the beneficiaries of the larger trend involving people moving back to cities.
"There are cities where it's happened faster than Albany, because the growth rate is so low. And there are parts of Albany that look more attractive right now if you're going to relocate a business or if you're going to relocate your family," King said to us. "But Central Avenue will see its turn. You're talking about global trends. It will happen. The question is the pace and what the ultimate form of it will be."
More people
The question we often have when hearing these sorts of projections is this: Where are the people going to come from?
If Albany -- and other cities around the Capital Region -- is going to continue redeveloping its downtown and neighborhoods like the Warehouse District and Central Ave with new residential and mixed-use space, it's going to take people. Albany is currently a city of just about 100,000 people. Filling these areas -- along with other neighborhoods -- probably means a city of, say, 110,000 or 120,000 people.
So, if that happens, are those people new to area? Are they moving from other parts of the Capital Region? What prompts that shift?
Central Ave is the future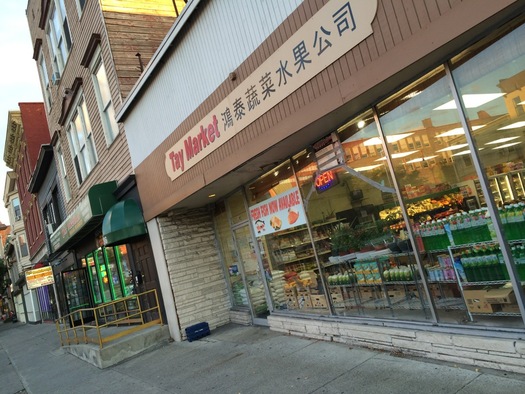 Central Ave is the sort of area that often gets overlooked in development discussions. It's not upscale. It doesn't have a lot of the old-warehouse-type architecture that's so en vogue right now for redevelopment. And for a lot of people who just pass through Albany, it's probably more known as that street where you're likely to get stuck behind someone double parking.
But of any place in the city of Albany, Central Ave probably is more like the future than anywhere else. It's a glimpse of how things are changing.
A few years back when we looked at the demographic characteristics of neighborhoods around the Capital Region, the census tract that includes the core chunk of the Central Ave corridor was the most racially diverse in the city. And outside of the tracts that include a lot of college students, it had the lowest median age of any tract in the city.
Just walk down Central -- especially that block between Quail and Lake -- and it's easy to see how this is one of the area's most vibrantly multicultural places, with a strong immigrant presence. There are few spots in the Capital Region (if there are any other at all) where you're going to find an Asian market next door to a halal market next door to an African market.
In some ways, Central Ave is the part of Albany that's most like the rest of the world. And that points to an interesting future -- whatever direction that future takes.
Say Something!
We'd really like you to take part in the conversation here at All Over Albany. But we do have a few rules here. Don't worry, they're easy. The first: be kind. The second: treat everyone else with the same respect you'd like to see in return. Cool? Great, post away. Comments are moderated so it might take a little while for your comment to show up. Thanks for being patient.