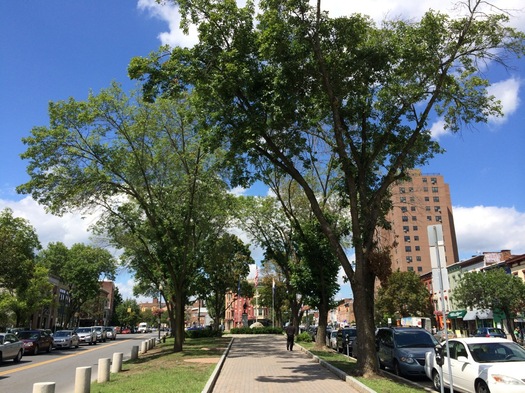 Trees are often one of those things you don't really have a real sense of until they're gone. It's remarkable how much emptier, starker, hotter a street can feel after a few longstanding trees are taken down.
The city of Albany is facing the possibility of experiencing this sort of impact on a large scale. Last year an invasive beetle was detected in the city for the first time and the city's ash trees -- of which there more than 2,000 along the city's streets and in its parks -- are threatened with being killed off.
We talked with Albany's city forester, Tom Pfeiffer, recently about dealing with this threat, the problems associated with uniformity, trees that stink, and trees as infrastructure.
The effect of emerald ash borer
The emerald ash borer is an invasive beetle originally from Asia. It was first noticed here in the United States in 2002 after ash trees in the Detroit area started dying off in unusual numbers. An investigation revealed it was the tree deaths were the result of damage from the beetles -- and all native varieties of ash trees are susceptible.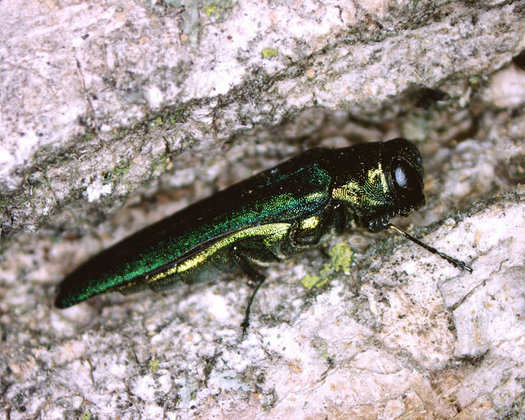 An emerald ash borer beetle. / photo: USDA on Flickr (CC BY-ND 2.0)
The ash borer has since spread from Michigan through the Midwest, Northeast and Canada, despite efforts to halt the spread. And it was first recognized in Albany last year.
"It's come on us quicker than we hoped. We've been watching for it for a few years," says Tom Pfeiffer, who's been Albany's city forester for 27 years. "When we confirmed it last year on Mapleridge Avenue, and then found out it had been there for as much as 3-4 years before we discovered it, meaning it had gotten established and moved to other trees in the areas."
Pfeiffer says the city then confirmed the beetles had established themselves in spots such as Townsend Park near the intersection of Central Ave, Washington Ave, and Lark Street, as well as Lenox Ave near Buckingham Pond.
The potential scale of the damage the beetles are capable doing here in Albany is big -- Pfeiffer says a 2008 tree inventory reported roughly 1,000 ash trees along city streets, and there are another 1,200 ash trees in the city's various parks and natural areas. (For some perspective, the city figures it has about 13,000 street trees, and about 40,000 trees total when all its parks and natural areas are counted.)
The impact could feel especially significant because many of the city's ash trees are in clusters. For example: The eastern end of Townsend Park includes a handful of ash threes -- they help define the outline of the park. And Pfeiffer said they'll probably all be coming down because of the beetles.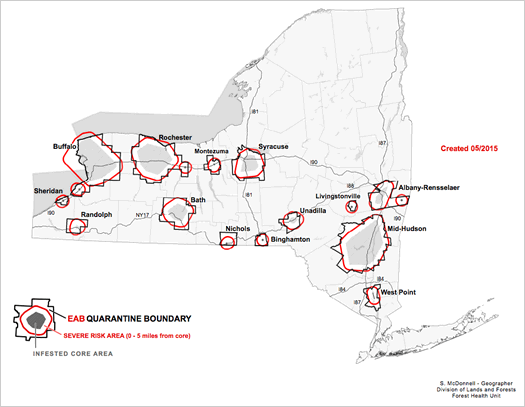 A NYS Department of Environmental Conservation map of emerald ash borer quarantine boundaries around the state.
There are treatments available for combatting the ash borers -- it basically involves injecting insecticide into the trees. But Pfeiffer says it costs a couple hundred dollar per three, and only provides protection for a few years. Even with funding from the state, he says the city has had to be selective about which trees get the treatment. (The city got an assist from the Washington Park Conservancy, which helped cover the cost of treating ash trees in the park.)
"Part of this was to manage our removal of trees, to take care of some of the largest trees, and spread out our needed response," he explained to us. "Because it would literally be too much for us to take down those trees at one time. And we can ease into, and hopefully get new plantings in those areas so that you wouldn't have that bang of losing the whole area."
(Here's a recent NYT article about research looking into why some Asian varieties of ash trees are resistant, and whether scientists can adapt those defenses to protect North American varieties.)
On the desire for uniformity -- and the need to change things up
Pfeiffer said one of the lessons of the emerald ash borer's arrival is the need for diversity in the types of trees around the city. Having a wide variety of trees is a hedge against disease, invasive species, and storm damage. But uniformity in design -- of size, shape, pattern, type -- can be seductive.
"That aesthetic really needs to change," Pfeiffer said. "I'm guilty of it, we've used it. People like it, the solid look of a canopy of trees down a street. And it is impressive to see overarching maples all the way down your street. But now we've had the double experience -- the nation lost elm trees by the thousands [to Dutch elm disease], which were heavily used in the streets. Now we're seeing the ash trees [suffer]."
"That aesthetic [of uniformity] really needs to change. I'm guilty of it, we've used it. People like it, the solid look of a canopy of trees down a street. And it is impressive to see overarching maples all the way down your street. But now we've had the double experience -- the nation lost elm trees by the thousands [to Dutch elm disease], which were heavily used in the streets. Now we're seeing the ash trees [suffer]."
If your bet on one type of tree loses, it loses big. Pfeiffer pointed to Woodlawn Ave in the New Scotland neighborhood where the city has been taking down a bunch of mature silver maple trees. He says that species has fallen out of favor among city foresters because it tends to spread out and hollow out, making it susceptible to storm damage. And during Irene, silver maples on the street crashed down, taking out power lines and snapping utility poles. "It was a mess up there. And the trees were in tough shape. And it's something we need to avoid," Pfeiffer said.
Another angle for changing up the mix of the city's trees: age. Some areas of the city's uptown neighborhoods -- such as the New Scotland and Helderberg neighborhoods -- have tree stock that was planted about the same time as the housing was constructed. Those trees -- many of them Norway maples -- are now reaching the end of their lives at roughly the same time, concentrating the loss of trees.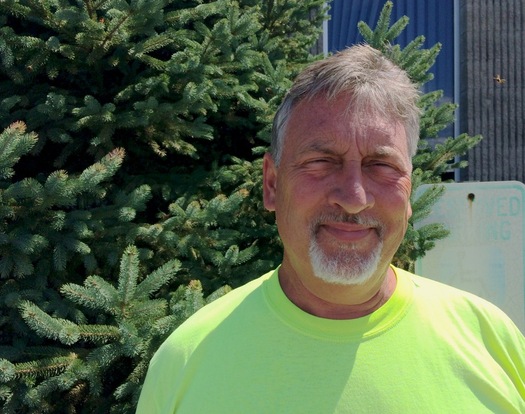 Tom Pfeiffer
"One of the good things is to create an uneven age stand so that we're not losing everything in one shot, going from full tree coverage to clear cut," said Pfeiffer. "Where you can have some trees that are full size and younger ones in there so that you have more of a mix. It retains a more consistent tree coverage."
The tree menu
The city of Albany currently offers about 20 different types of trees for street planting. You can take a look at the menu online -- it's subdivided by tree size, and varieties are tagged whether they're suitable for planting near power lines.
The cost of planting a new street tree is split by the city and the property owner -- it typically costs the property owner between $100 and $150 for a tree. Tom Pfeiffer said having people chip in for the cost of the tree does two things: 1) City budgets are tight and the cash helps cover the city's costs, and 2) Getting people to contribute something out of pocket helps people feel invested in the tree, so they're more likely to care for it, especially when it's young and needs watering.
The stinky trees
There's no perfect street tree, a fact illustrated by the Callery pear.
Pfeiffer said the trees started to become very popular as street trees a few decades back: "Great leaf shape, color, form of the tree was just so super that everyone wanted to use them, all over the country. So we did. We found after a few years that it has a few issues. The branching pattern tends to split under a snow or ice load. So it's a challenge here in the Northeast to use them. We've had different ice storms and lost beautiful trees. So we're kind of moving away from those a little bit."
Also: They stink. Literally.
"It was something I wasn't aware of," Pfeiffer said of the trees' rather distinctive odor. "Then we had a very warm spring day and I said, 'What is that smell? It smells like cat piss.' The temperature was about 90 and it just made that odor come out. These trees that we had so many of all of sudden... oh, my god, what did we have? So that fell off my list right about then."
Trees as infrastructure
One thing that Tom Pfeiffer said during out conversation that really stuck with us was the idea of trees as infrastructure.
Trees provide shade and reflect sunlight, helping to cool parts of the city. They soak up water, helping to mitigate problems associated with storm water. There's even research that points towards trees helping to foster more successful business districts.
"We look at that the infrastructure as being the street pavement, the curb, the sidewalk, the telephone pole, the street signs," Pfeiffer said us to while discussing some of the implications of the ash borer's impact on city ash trees. "The trees are not just a pretty thing -- they're delivering so many benefits. ... So getting replacement plantings out there will be important for our streets."
Say Something!
We'd really like you to take part in the conversation here at All Over Albany. But we do have a few rules here. Don't worry, they're easy. The first: be kind. The second: treat everyone else with the same respect you'd like to see in return. Cool? Great, post away. Comments are moderated so it might take a little while for your comment to show up. Thanks for being patient.