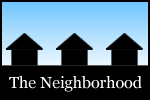 Among the topics in this most recent spin around the Capital Region's online neighborhood: monuments, the kiosk mentality, the Santanoni Range, horses, four miles in the dark, a tea factory, Travers Day, Ama Cocina, korean BBQ, metal needs, and railroads.
A walk through Congress Park prompted Jackie to think about why so many monuments are dedicated to heroes of war, and so few to peace makers and healers.
An attempt to order dinner got Chuck kvetching about what he describes as "kiosk mentality."
Jen hiked the Santanoni Range in the Adirondacks.
Crystal spent a day on Equine Advocates.
Silvia ran four miles in the dark in the middle of nowhere in Vermont.
Lorre got a tour of a tea processing facility in Millerton.
Daniel's first visit to the Saratoga Race Course was Travers Day.
It sounds like Dominic is ready for Track season to end.
Steve checked out the new Ama Cocina in downtown Albany.
Greg K shared a bunch of restaurant and food-related bits.
Steve N. has started his burger quest -- and already found burger nirvana.
J+R had lunch at Namu Korean BBQ.
Jon recommended a place for your metal needs.
And Carl enumerated the many rail options that once ran along both sides of the Hudson.