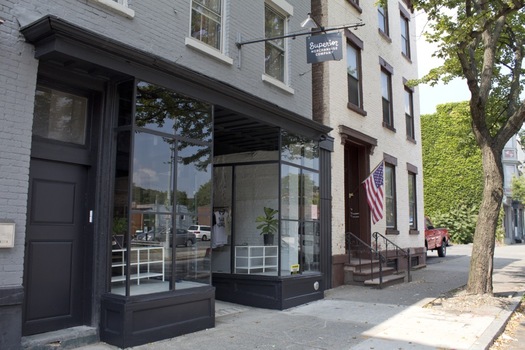 By Lauren Hittinger
Opening in Troy this Saturday is Superior Merchandise Co., a shop that combines a home goods boutique, a coffee bar, and a florist. While it seems like an eclectic mix, somehow everything fits together in this Fourth Street business.
It has not been an easy journey for Felicity Jones and Mike Romig, who are co-owners and partners. They have spent two years transforming a building that was slated for demolition into a comfortable and hip shop. Much of their aesthetic inspiration comes from Copenhagen, with an eye toward creating a simple, clean, and modern interior.
I was able to stop by in advance of their opening to catch a glimpse of Superior Merchandise Company and to chat with some members of their team.
Photos
A handful of photos from the shop are above in large format -- click or scroll all the way up.
On what Superior Merchandise Co. will be offering
Felicity Jones, co-owner: One thing we are is a home goods shop. We sell extremely well designed home goods, gifts, office supplies--a lot of different things. And all of them are from different makers across the country and across the world. We have ceramics from Copenhagen; the mugs that we're going to be selling all of our coffee out of are handmade in New Zealand.
Mike Romig, co-owner: The underlying concept that ties the retail and the coffee part together is curation. What we're trying to do is bring these world-class things, the best that's available, to Troy and to the local community in the Capital Region.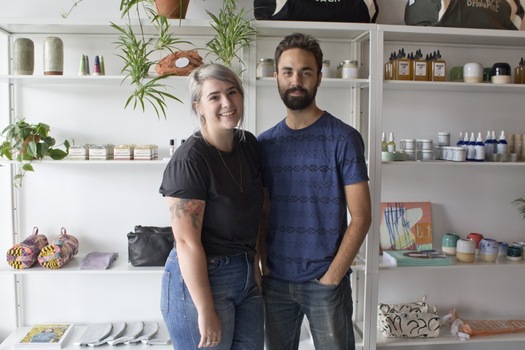 Felicity Jones and Mike Romig
Felicity Jones: So we're the retail store, the coffee bar, and along with amazing coffee, we'll also have beers on draft and a decent size bottle and can selection. We'll also have some wine. One of our employees actually makes their own tea blends, so we're going to be serving our own in-house tea blends, iced and hot. We're partnering with Jess from Collar City Hard Pressed and having some special juices that will just be at Superior Merchandise Company. And there's Flower Scout, so we'll also be part flower shop.
Coffee and food
Matthew Loiacono, director of coffee: So we are what's known as a multi roaster coffee bar. The distinction for me is that we're not buying coffee from one place, and it's not going to be from one place for a super long time. It's going to be a combination of one or two or three roasters at any time. And we're trying to find the best coffees that they have.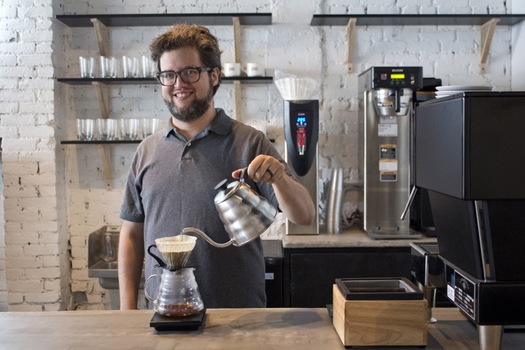 Matthew Loiacono
And then the coffee bar part of that -- to me, a coffee shop is more of a place where you live, and hang out, and spend all kinds of time here with your laptop. We're trying to approach the coffee more culinarily. We're not offering a zillion different drink sizes -- and there's nothing wrong with any of this, but we want to approach it with more craft than perhaps a full-service coffee house is. We're going to be making all of our flavoring syrups in-house, utilizing local ingredients when available, and just making the best tasting coffee that we possibly can. We're opening with two California roasters, which no one else has carried in the area as of yet. So my job as Director of Coffee is to find the best coffees that we possibly can that will work in this context, all the while having the staff be a part of that curation as well.
Mike Romig, co-owner: The beauty of a multi-roaster is that we're not limited at all. We don't have an exclusive agreement, and we can just get literally the best coffees from around the country and perhaps the world. We're not limited in scope of what we bring in or tied down to one specific roaster.
Matthew Loiacono: We're working on partnering with a baker to have breakfast stuff--not super full-service, but easy grab and go stuff like scones and biscuits.
Felicity Jones: And then in the afternoon we'll have some more bar, snacky stuff. We're hoping to do some in-house pickled veggies, roasted and spices nuts--that kind of stuff. We have a big back patio, so we'll have outdoor seating, which will be amazing because there really aren't that many places in Troy with outdoor seating. We also have space out there to do workshops. I'm really looking forward to bringing local artists and artists from across the country to come in and teach their craft to the community and do different workshops.
Matthew Loiacono: We are definitely going to have free coffee tastings, and then also coffee classes as well. We didn't mention this, but we are selling coffee retail stuff -- it's small for now -- just some Chemex and a couple different drippers, and whole beans as well.
Floral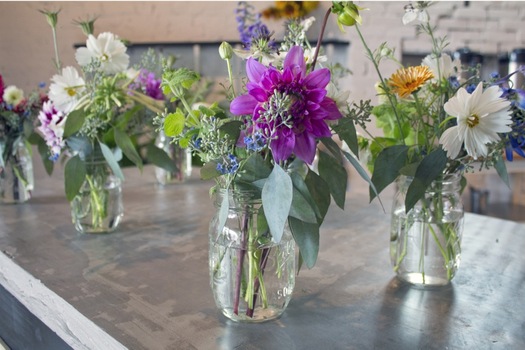 Colie Collen, owner of Flower Scout: Well, All Over Albany people are probably a little bit familiar with what I'm doing. But when people have gotten a singular bouquet, or a centerpiece, or a birthday gift from me, up till now they've had to come to my home and meet me at the stoop. So now they can meet me here, in this professional zone that is a place that I already love really dearly. And it's another way for people to interact with Flower Scout and to pick up flowers that aren't for a wedding or a giant occasion, but are just because they feel like getting some. And there is nowhere in this area to go for local, or sort of crafted, artisan-style flower arrangements. There will always be bouquets for sale, but people can place a particular order if they want a certain color, size, or style of arrangement.
The building rehab
Mike Romig: When we took over the building there was extensive roof damage which allowed water to go in all the way from the third floor down to the basement level, which rotted away this entire portion of the building. So it was structurally unsound and due to the timing of it, in November, it needed to be secured before it collapsed. So we took it over and immediately did the structural work. That was one of the biggest parts. After the structural work took place, we got to work on the upper floors -- the second and third floors -- because we live here, so we needed a place to live. We took over the building in November 2013, but we didn't actually own it until January 2014. We had to fix it before it collapsed.
[The building had been under the control of the city of Troy after a foreclosure.]
Felicity Jones: They were going to demolish it.
Mike Romig: So prior to this we started coming to downtown Troy and fell in love with what was happening down here and we could feel that something was building. We wanted to get downtown, and this was the only property available to that point for what we wanted to do -- live upstairs and have a store downstairs. So yes it was structurally unsound, but we took a leap and did it.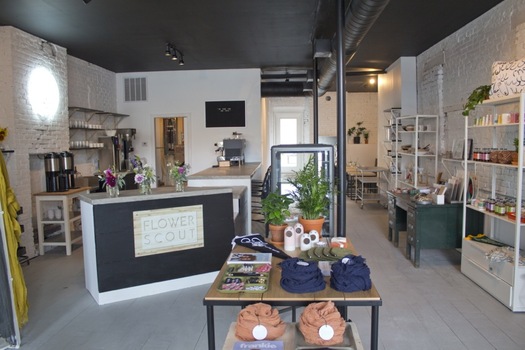 The shop as it appeared on August 31.
Felicity Jones: There were a lot of points between then and now that we were like, "Shit. Maybe we shouldn't have done this."
Mike Romig: It was been more or less, not to be over dramatic, but like a waking nightmare until the past month or so. ... Every step of the way. We did not get any good news throughout the entire process.
Felicity Jones: And it made it so hard to get to this point. It's amazing how the shop looks now. And we did a lot of the work in here ourselves. Doing a building of this size, and the state it was in, was financially more than we ever thought it was going to be.
Why Troy?
Felicity Jones: This location specifically because it was the only thing that, one we could afford and, two that was available in the historic district.
Mike Romig: Troy just has an energy to it. Culturally, Saratoga is just not interesting. Albany is awesome, but it's not walkable. Troy is that perfect grid where the entire downtown is walkable. And not only that, but the sense of community here is unparalleled to anything I've ever found.
These interviews were edited and condensed.
____
Superior Merchandise Company's grand opening is this Saturday, September 5th starting at noon.
Lauren Hittinger Hodgson is a freelance writer and contributor to AOA. She lives in Troy with her husband and dozen almost-dead houseplants.
Find It
Superior Merchandise Co.
147 Fourth Street
Troy, NY 12180
Say Something!
We'd really like you to take part in the conversation here at All Over Albany. But we do have a few rules here. Don't worry, they're easy. The first: be kind. The second: treat everyone else with the same respect you'd like to see in return. Cool? Great, post away. Comments are moderated so it might take a little while for your comment to show up. Thanks for being patient.