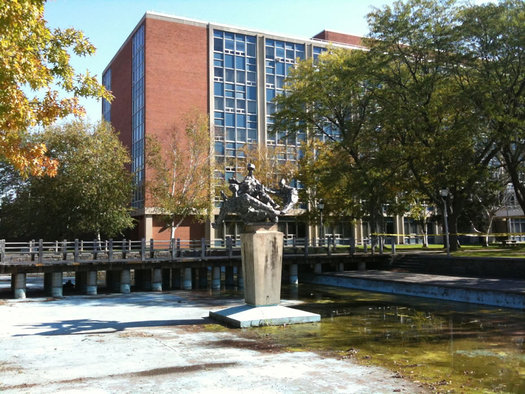 You know that big midcentury architectural project in Albany -- no, not that one, the other one -- the Harriman State Office Campus. Historic Albany Foundation has a tour lined up of the campus for October as part of Docomomo* US Tour Day. Blurbage:
Tour the much lesser-known state office project built at the western edge of Albany, the W. Averell Harriman State Office Campus. Governor Harriman began this office park in the 1950's to relieve congestion in the state offices on and around Capitol Hill. Nelson Rockefeller took on the development of the campus once he succeeded Harriman, named it for Harriman, and then proceeded to make it a suburban South Mall, complete with reflecting pools and modern artwork from George Rickey, and others. Harriman Campus is comprised of over 15 extant buildings built between 1958 and 2013 by a variety of architects. The remaining 13 mid-century modern buildings bear the influence of the modern masters, one in particular - universal spaces, buildings on stilts, a building that is, in its detailing, a copy of a Philip Johnson homage to Mies...and on and on.
The tour is Saturday, October 10 from noon-2 pm. It's $10 and reservations are required. (HAF's tours often fill up -- so grabbing a spot earlier rather than later is a good idea.)
We walk the campus fairly often with the office dog in the evenings and it's remarkably park-like. But, like the Empire State Plaza, it's oddly disconnected from its surroundings -- in this case not by fortress walls, but a moat of ringed roads.
* "Docomomo stands for the documentation and conservation of buildings, sites and neighborhoods of the modern movement."