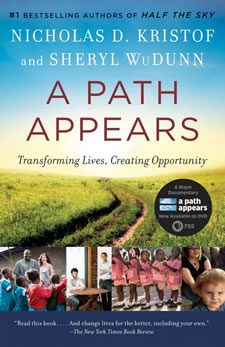 Pulitzer Prize winners Nicholas Kristof and Sheryl WuDunn will be at 90 State in Albany October 29 to talk about their newest book A Path Appears: Transforming Lives, Creating Opportunity. The event is being hosted by the Schuyler Center -- tickets are $60.
You probably know about Kristof, a columnist for the New York Times who's become known for his advocacy of issues related to the developing world (advocacy which has sometimes prompted criticism). WuDunn also worked for NYT (she and Kristof won a Pulitzer for their coverage of the Tiananmen Square protests), she's since moved into investment banking.
The couple's previous book, Half the Sky: Turning Oppression into Opportunity for Women Worldwide, was published in 2009. A Path Appears also took the form of a PBS series earlier this year.