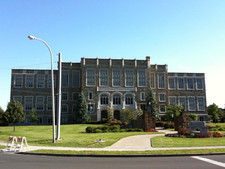 Albany Law is hosting an event -- Bridging the Gap: Police and Community Relations -- this Wednesday (September 16) to "to discuss police relations with minorities and young adults in the community."
Panel members include:
+ Albany Law professor Christian Sundquist, moderator
+ local attorney Gaspar Castillo
+ Albany police commander Michael Hicks
+ Jasper Mills, assistant district attorney in the Albany County DA's office
+ local attorney Mark Mishler
+ Reverend Edward Smart, chair of the Albany Citizens' Police Review Board
+ Albany Law professor Donna Young
Questions for the panel can be submitted to bridgingthegappoliceforum@gmail.com.
The discussion is in the Dean Alexander Moot Courtroom (80 New Scotland) at 5:30 pm. It's an open event -- no pre-registration required.