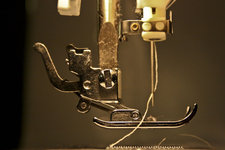 Eric asks via the Facebook:
Can anyone point me to a good sewing machine repair shop? I don't mean new machines (most of which can't be fixed when they break) I mean old machines that are worth the effort.
It seems like every year it gets harder to find a place to repair small appliances like this, in part because the cost to replace and the cost to repair are often about the same now. Lake Electronics used to be the place for this sort of stuff, but it's no longer in operation.
Maybe there's a place for that specializes in sewing machines. Got a suggestion for Eric? Please share!
photo: Flickr user Deb Stgo (CC BY 2.0)
Hi there. Comments have been closed for this item. Still have something to say? Contact us.