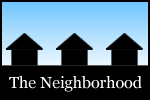 Among the topics in this most recent spin around the Capital Region's online neighborhood: stretching the umbilical cord, the busking incident, Albany from above, the Longhouse Revival, the Thousand Islands, hiking, wildflowers, the Hudson Valley Winfest, and the good things.

Amy on parenting: "If you do your job right as a parent, they leave you. What a plain and unavoidable paradox that is, and how important."
Chuck was sympathetic to the police officer in the Albany busking incident.
Carl examined some historical aerial photos of Albany.
Lorre's mind was expanded at the Longhouse Revival.
Julie explored the Thousand Islands.
Jen recapped a bunch of hikes from this summer.
Jackie floated freely among the wildflowers on the upper Hudson.
Chris ran the SEFCU 5k.
Otis checked out the Hudson Valley Winefest.
The Fuj ventured to Connecticut to check out a brewery.
And Daniel on not taking for granted the things that are good here.
Hi there. Comments have been closed for this item. Still have something to say? Contact us.