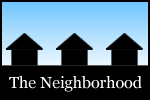 Among the topics in this most recent spin around the Capital Region's online neighborhood: a requiem, faith, getting older, gentrification, New Hampshire, Toronto, the Woodlawn Preserve, a half marathon, the Tour de Donut, Saratoga Wine and Food Fest, Hoptember, summer bites, okra, concrete, aerial photos, and Nipper rightside up.

Rob shared the eulogy he wrote for his mother's funeral.
Amy reflected on what her faith provides her.
Silvia on feeling younger than ever at 49.
Sandy thought through some ideas on gentrification, mobility, and small cities.
Julie chased waterfalls in New Hampshire.
Albany Jane celebrated a 100th birthday party in Toronto.
Jackie explored the Woodlawn Preserve in Schenectady.
Jona ran the Saratoga Palio half marathon.
Daniel shared the itinerary for this fall's Tour de Donut.
Ashley recapped the Saratoga Wine and Food Fest.
Lorre checked out the Hoptember Harvest Fest.
J+R shared a bunch of summer food bites.
Otis tackled an overflow of okra.
Jon has a recommendation if you're ordering concrete in the Albany area.
Carl examined some old aerial photos of the area around Albany Med.
And Chuck captured a really fun photo of Nipper.