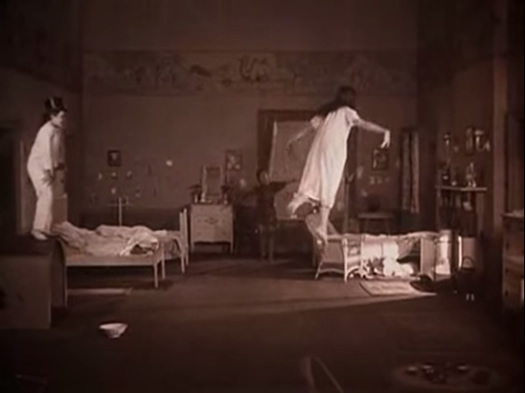 The Albany Public Library's Silent Film Spectacular returns for another season this month. The APL will be screening silent movies with live soundtracks performed by local bands.
The screenings are the next four Wednesdays in the large auditorium of the APL's main branch on Washington Ave, starting at 7 pm. They're free.
Here's the full lineup:
All blurbage via the APL.
October 7: Dementia with live, original music by Blacklight Lighthouse
In "Dementia," which was released in 1955, a psychotic woman awakens from a nightmare in a cheap hotel room and spends a frightening night on skid row. Blacklight Lighthouse creates loops and samples layered with acoustic and electronic instrumentation resulting in a sound collage that will delight the audience.
October 14: Peter Pan with live, original music by Time Travel Bookclub
The 1924 film "Peter Pan" closely follows the original stage play and incorporates some of the dialogue in the title cards. Time Travel Bookclub will use modular synthesis, guitar, piano, electronics, and percussion to create an evocative soundscape.
October 21: The Unknown with live, original music by Clank
In "The Unknown," which was released in 1927, a criminal on the run from the law hides in a circus and pursues the ringmaster's daughter. Clank is an electronic musical duo that uses synthesizers, samplers, effects pedals, electric guitars, and modifiers to create live soundscapes of spontaneous sounds, loops, and samples woven together.
October 28: When an Alien Robot Crash-lands in Troy, NY an original film and soundtrack by lastdayshining
Albany band lastdayshining had such a great experience at last year's Silent Film Spectacular that they decided to create their own film for this year's event. lastdayshining is a hard-hitting, post-rock band with a sound characterized by expressive instrumental buildups that travel through a range of dynamic changes from quiet lows to bone-crushing highs.
____
APL advertises on AOA.
still from Peter Pan (1924) via D Cairns YouTube
Hi there. Comments have been closed for this item. Still have something to say? Contact us.