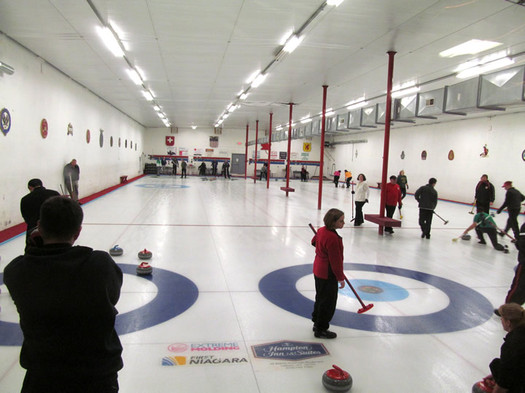 Autumn has arrived and that means that curling season is near.
Curling? Yeah, curling. You know, that sport in which people slide stones down a sheet ice while other people furiously sweep the path of the stone with brooms. It's an Olympic sport -- and a wintertime way to get together with other people.
The Capital Region has two curling clubs, the Albany Curling Club (which is in Guilderland) and Schenectady Curling Club (which is in Niskayuna).
If you're curl curious, the Albany Curling Club has a free open house at its facility off Schoolhouse Road this Saturday (October 10, 10 am-4 pm) and Sunday (October 11, noon-4 pm). You'll have a chance to try out curling (bring clean sneakers so you can go on the ice) and check out the place.
The Schenectady Curling Club's fall open house was last weekend (we dropped the stone on that). But its offering beginners' curling classes tonight (October 7) and Friday (October 9) that are open to anyone for $15 each night. (The cost of the classes is deductible from your membership fee should you decide to join the club.)
So what's a curling club like? Casey wrote about visiting the Schenectady Curling Club a few years back: "Overall, going to the curling match was... relaxing. I like the idea of a sport that is tight-knit, informal (in some leagues), and friendly. The players laugh, joke around and, sometimes, drink a beer while they're playing (though only from cans, glass isn't allowed on the ice)."
And here's Jess writing about her experience trying out curling at the ACC.
By the way: Curling has some great vocabulary -- bonspiel, kizzle kazzle, keen ice, and so on.