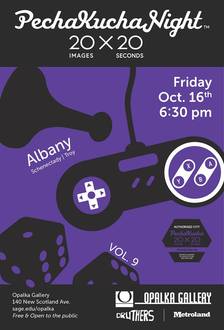 The local PechaKucha series returns to the Opalka Gallery on the Sage Albany campus this Friday.
The lineup (so far) posted includes short talks on topics such as addictive games, designing experiencing, the fertile void (or something), popular poetry, parallels between video games and art, and what happens when you take away the games. The lineup with some blurbage is after the jump.
What is this PechaKucha? It's a presentation form in which the speaker gets to display 20 slides, each for only 20 seconds. So it's very fast paced.
The event is Friday, October 16 starting at 6:30 pm. It's free, and there will be beverages from Druthers.
Also, while you're there, you can check out the Opalka Gallery's exhibit From Concept to Console: Art & Aesthetics in Video Game Design.
All blurbage via the Opalka Gallery.
Kathy Ceceri: "Life as Non-Gamers (And How That Worked Out)"
Lots of parents threaten to take away all their kids games -- but we actually did it. The results were not what we expected.
Stacy McIlduff: "My Double Life as Dragonborn"
Discussion will focus on "The Elder Scrolls V: Skyrim," drawing parallels between video games, art and life.
Daniel Nester: "The Search for Desiderata"
One of the most popular--dare we say best-selling?--poems of the 20th century, "Desiderata" is unabashed in its New Agey wisdom. "Go placidly amid the noise and haste, and remember what peace there may be in silence," it begins. In our current age of portentous manifestos, "Desiderata" serves as a template for making grand statements we can all up-vote. But where did it come from, who wrote it, and how did it get so famous?"
Caro Williams-Pierce: "I'm a designer, and so are you"
I started designing online mathematics lessons and interactions years ago, but it was only recently that I actually felt comfortable saying, I'm a designer. Being a designer felt like a claim to some sort of sophisticated and brilliant knowledge, as if I was placing myself alongside Escher and Edison and the folks at Apple who appear to magically know what you want when you swipe just so. But then I realized: all day and every day, I design experiences. And so do you.
Gregor Wynnyczuk: "Words on Things"
Certain works of art remain overlooked and incomplete until the moment their fertile void draws forth an unanticipated meaning, suddenly completing the long stagnant process. Or something like that.
Jamey Stevenson: "Aspiring to Addiction: Game Design and Compulsive Play"
Game designers tend to embrace the addictive properties of games, openly striving to create systems that ensnare players in ongoing loops of compulsive behavior. Notable examples can be found in many games that adopt the "free to play" business model, which is heavily reliant on encouraging habitual usage patterns in order to extract as much money as possible from players. This talk will explore the ramifications of this approach, from the perspective of a game designer who has worked on a number of free to play titles.
Say Something!
We'd really like you to take part in the conversation here at All Over Albany. But we do have a few rules here. Don't worry, they're easy. The first: be kind. The second: treat everyone else with the same respect you'd like to see in return. Cool? Great, post away. Comments are moderated so it might take a little while for your comment to show up. Thanks for being patient.