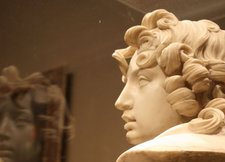 Becky emails:
Can anyone recommend a good, reasonably priced place for a little boy to get his haircut? I don't want a buzzcut (I get why this is the default for lots of kids - it's easy, but I don't like the look), I want a real, preferably scissor-done cut for my three year old. I've not been impressed by what I've seen of Snip-Its - the cuts or the price. I've been doing his cuts myself since he first needed them, but I'd like him to get a good haircut for once, as mine aren't great. Any suggestions?
(Snip-Its is a chain that specializes in kids haircuts. We admit we had to look that up.)
So, got a suggestion for Becky and her son? Please share! And bonus points for a sentence or two about why're recommending that person or shop.
photo: Flickr user Quinn Dombrowski, cropped (CC BY-SA 2.0)
Hi there. Comments have been closed for this item. Still have something to say? Contact us.