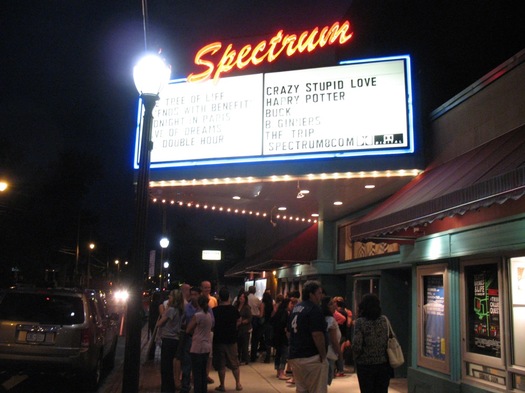 The owners of the Spectrum 8 Movie Theatres announced this past weekend they're selling the movie house to the Landmark Theatres chain:
After 35 years in the movie business, we felt it was time to hand over the stewardship of the Spectrum. We searched long and hard for a company that reflects our views about the importance of independent film. Landmark showcases much of the same type of programming that the region has come to expect from the Spectrum and therefore we feel that Landmark will serve our community well. We are very grateful for the support that the Capital District has afforded us over the years. As some of you may remember, two couples, Sugi and Keith Pickard & Annette Nanes and Scott Meyer, started the 3rd Street Theatre in Rensselaer in 1980 and The Spectrum in 1983. We have always felt very fortunate to have partnered with such an involved, enthusiastic and passionate community. With gratitude for your support over the last 35 years, our last day running the Spectrum will be November 17th. The theatre will close for 2 days and then reopen with Landmark at the helm.
Over at the Times Union Amy Biancolli has more details about the decision and the sale.
Of course, The Spectrum is a staple not just of its Delaware Ave neighborhood, but the wider Capital Region. It's provided a place to see both limited-released films and blockbusters in a cozy venue. (Noted: The Spectrum says the popcorn and butter will stay the same.)
The Landmark Theatres group has 54 theaters (with 259 screens) in 25 markets, many of them in the western and midwestern US. It bills itself as "a recognized leader in the industry for providing its customers consistently diverse and entertaining film products in a sophisticated adult-oriented atmosphere." Here's the current lineup of films running at its two locations in Boston -- it's a slate that wouldn't look out of place at The Spectrum.
And one other bit that caught our eye: The company that backs Landmark is one of Mark Cuban's companies -- you know, the guy who owns the Dallas Mavericks and is on Shark Tank.
The Spectrum advertises on AOA.
Hi there. Comments have been closed for this item. Still have something to say? Contact us.