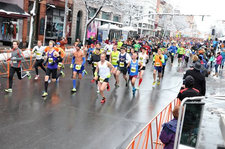 Just a heads up about two popular races...
Turkey Trot
Registration is open for the Troy Turkey Trot. The annual Thanksgiving morning race includes a 5k ($30), 10k ($30), walk ($10), and grade school mile ($12). You can register online.
The Troy Turkey Trot is now in its 68th year. And is said to be the 12th oldest road race in the nation. Last year almost 7,500 people took part.
Albany Last Run
Registration is also open for the Albany Last Run 5k on December 19 through the Capital Holiday Lights in Washington Park. Registration is $30. The race is capped at 1,700 people and often sells out, so if you're interested in signing up, do so earlier rather than later.
photo: Pat Hendrick Photography / Troy Turkey Trot