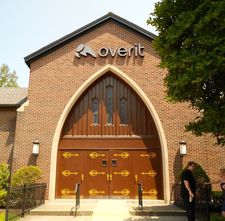 The lineup is out for this year's TEDxAlbany, which is December 3 at Overit in Albany.
This topics for this year's talks range from empathy, to exotic physics, to the experience of transitioning gender, to farms. The full lineup is after the jump.
TEDxAlbany is the locally-organized version of the popular TED talks series. Overit hosts the event at a studio in its converted church building on New Scotland Ave.
Tickets are now available. They're $90 and include breakfast and lunch. There's limited number, and the event has filled up quickly the last few years.
Speakers
There's more info on the TEDxAlbany website's speakers page.
Dr. Valerie Rapson: "STEM education for the young to young-at-heart"
Catherine Hill: "An Immigrants Story Comes Full Circle"
Emad Rahim: "Tell Me Your Story: Empathy to Combat Social Violence"
Chad Orzel: "The Exotic Physics of an Ordinary Morning"
Heather Jacobsen: "How Do You Know if You're Diet is Really Working For You?"
Collen Costello: (The title of her talk hasn't been posted, yet. But she's one of the co-founders of the Troy startup Vital Vio, which is making germ-killing LED lights.)

Jaye McBride: "Trans 102: Life After Transition "
Ty Allan Jackson: "Coloring Books"
David Haight: "How to Save 1,000 New York Farms in the Next 10 Years"
Sandhyaa Iyengar: "Story Time Stars: Let Every Child Shine with Early Literacy"
Hi there. Comments have been closed for this item. Still have something to say? Contact us.