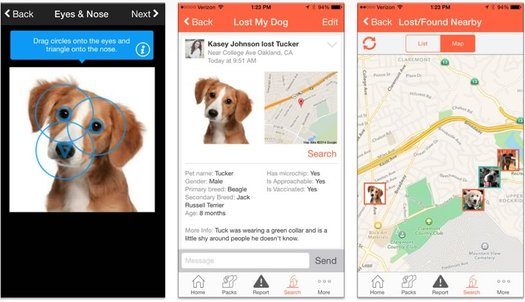 The Mohawk Hudson Humane Society announced today that it's now using facial recognition technology as part of its efforts to reunite missing dogs and their owners. Specifically, the org is using a mobile app/service called Finding Rover. Press release blurbage:
Beginning November 11, 2015, all dogs entering Mohawk Hudson Humane Society will be registered on Finding Rover. When a dog is registered on Finding Rover, he or she is protected with revolutionary facial recognition technology. This 98% accurate, photo-matching technology is FREE and available for anyone to use on a smartphone or computer. Every dog that leaves the Humane Society, through a reunion or an adoption, can remain protected on Finding Rover when the pet-parent completes registration with an email. If that dog ever gets lost, his or her record will already be in the system, and identifying that pet will be a snap.
The service works in the other direction, too. You can download the app, scan a picture of your dog, and then if the dog is found by someone using the service -- Mohawk Hudson Humane, for example -- the dog can be identified.
The app is available for both iOS and Android.
We were curious about the background on Finding Rover and this NPR article filled in some of the details -- among them, how the company makes money. "For now, Finding Rover relies on investors for funding, but [founder John] Polimeno expects advertising in the app's social network for pet owners will pick up soon."
screenshots from Finding Rover iTunes store page
Hi there. Comments have been closed for this item. Still have something to say? Contact us.