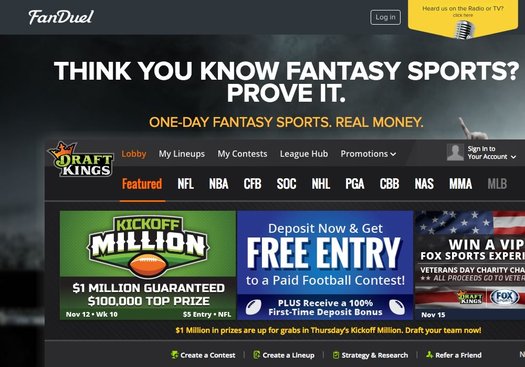 If you had Eric Schneiderman starting in your state attorney general attention fantasy league this week, you're rolling up a lot points.
New York State's AG caused a big splash yesterday when his office sent cease and desist letters to the two biggest daily fantasy sports companies ordering them to stop operating in the state because his office had concluded they're "illegal gambling" operations. A clip from the press release:
"Our investigation has found that, unlike traditional fantasy sports, daily fantasy sports companies are engaged in illegal gambling under New York law, causing the same kinds of social and economic harms as other forms of illegal gambling, and misleading New York consumers," said Attorney General Schneiderman. "Daily fantasy sports is neither victimless nor harmless, and it is clear that DraftKings and FanDuel are the leaders of a massive, multi-billion-dollar scheme intended to evade the law and fleece sports fans across the country. Today we have sent a clear message: not in New York, and not on my watch."
If you're thinking "Daily fantasy what?" or "Billions of dollars?" right now, this New York Times article includes a lot of background.
Fantasy sports was already immensely popular. And it's changed the way a lot of people view sports -- following individual players and performances rather than teams. You could argue the games have, in a way, just become number generators for the fantasy games.
A 2006 federal law opened a window for these sorts of online fantasy sports leagues to operate legally. [Buffalo News] But in the letter sent to the two companies -- Fan Duel and Draft Kings -- the AG's office argues these daily leagues run afoul of New York State laws regarding to gambling:
Our review concludes that DraftKings' operations constitute illegal gambling under New York law, according to which, "a person engages in gambling when he stakes or risks something of value upon the outcome of a contest of chance or a future contingent event not under his control or influence." DraftKings' customers are clearly placing bets on events outside of their control or influence, specifically on the real-game performance of professional athletes. Further, each DraftKings wager represents a wager on a "contest of chance" where winning or losing depends on numerous elements of chance to a "material degree."
What about season-long fantasy leagues?
And what of old-school, season-long fantasy leagues?
We believe there is a critical distinction between DFS and traditional fantasy sports, which, since their rise to popularity in the 1980s, have been enjoyed and legally played by millions of New York residents. Typically, participants in traditional fantasy sports conduct a competitive draft, compete over the course of a long season, and repeatedly adjust their teams. They play for bragging rights or side wagers, and the Internet sites that host traditional fantasy sports receive most of their revenue from administrative fees and advertising, rather than profiting principally from gambling. For those reasons among others, the legality of traditional fantasy sports has never been seriously questioned in New York.
Unlike traditional fantasy sports, the sites hosting DFS are in active and full control of the wagering: DraftKings and similar sites set the prizes, control relevant variables (such as athlete "salaries"), and profit directly from the wagering. DraftKings has clear knowledge and ongoing active supervision of the DFS wagering it offers. Moreover, unlike traditional fantasy sports, DFS is designed for instant gratification, stressing easy game play and no long-term strategy. For these and other reasons, DFS functions in significantly different ways from sites that host traditional fantasy sports.
The AG's office is making a distinction between "regular" fantasy leagues and daily fantasy. But it doesn't look like it'd be too hard to extend this same argument against regular fantasy leagues -- especially if the players have put a non-trivial amount of money up to be part of the league (which some people definitely do).
Both Fan Duel and Draft Kings dispute the assertions made the AG's office, and this will probably end up in court. Both companies have plenty of money to fight. It will be interesting see which arguments win out. [Engadget]
About the state and gambling
One of the remarkable things about all this to us, though, is the context in which Schneiderman is making this charge. New York State is currently in the process of significantly expanding access to traditional casino gambling across upstate New York -- and it's doing so under the banner of economic development. The New York State Lottery -- which has very long odds of a person winning -- racked up $9.2 billion in operating revenue during the last fiscal year, and actively promotes itself across a variety of media. And one of the premiere tourist attractions in upstate New York each summer is a place that hosted horse races on which $648 million was wagered over the course of just 40 days.
So, the state's relationship with gambling is... complicated.
Hi there. Comments have been closed for this item. Still have something to say? Contact us.