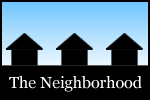 Among the topics in this most recent spin around the Capital Region's online neighborhood: flying under the radar, high-speed rail, Metroland, BULT, settling in, art, New Paltz, Toronto, the somber landscape, Innovo, a seitan chicken club, and too much.

Amy shared some thoughts on Albany being under the radar.
Sandy on upstate sprawl, state money for transportation projects, and high-speed rail.
Rob commented on the end (?) of Metroland.
One of Chuck's pieces was the subject of multiple bids at BUILT.
Christine reflected on the joy of settling into her new home.
A comment about a wall prompted some thoughts from Greg K about art. (Also: He shared a recap of a dinner at Blue Hill at Stone Barns this past summer.)
Julie went hiking near New Paltz.
Albany Jane shared some bits from a trip to Toronto.
Jen ran the Leaves Have Fallen Half Marathon at Lake Minnewaska State Park Preserve.
The the somber late-fall landscape commiserated with Jackie (so to speak).
Zena tried out Innovo Kitchen in Latham.
Dominic shared more snippets from the restaurant kitchen.
Randal enjoyed a seitan chicken club at The Brakes.
Silvia packed her new place with "inspiring, influential and impressive" women.
And Daniel had more than his fill.