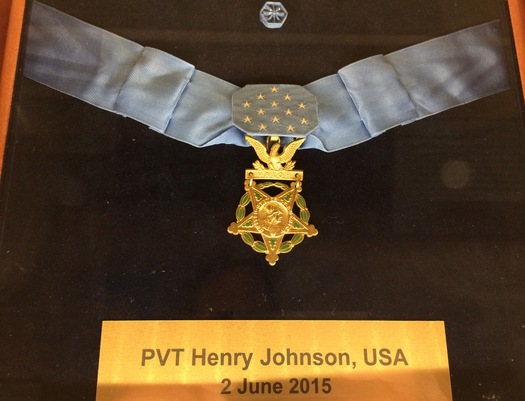 Were by the Capitol today so we took a moment to stop in to see Henry Johnson's Medal of Honor, which was posthumously awarded to the Albany WWI hero earlier this year after a long effort.
The small display in the Capitol's War Room includes a few other items, among them the sort of helmet and knife that Johnson had the night he bravely fought to rescue a member of his unit during an attack by a crew of approximately 30 German soldiers. There was something about seeing these items -- the knife, especially -- that reinforced for us how terrifying the whole episode must have been.
It's notable that the exhibit doesn't skip over what happened to Johnson when he returned from the war. He was briefly hailed as a hero, but once he spoke out about the discrimination he and other African-American soldiers had faced, the government basically dropped him. He didn't end up getting the benefits he was owed. And the official recognition of his bravery would be much too long in arriving.
The Capitol: If you've never been to the Capitol -- or haven't been in years -- it's worth stopping in if you have the chance. If do so now, you'll be able to see the Henry Johnson exhibit. And you'll also be able to check out the all renovations that were completed in recent years, browse through the Hall of Governors, and maybe take a tour.