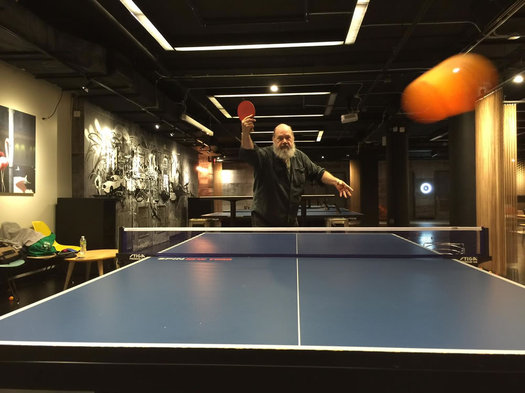 Something a bit different: A show at Proctors next week -- ChipandGus: A Comedy with Balls -- is both a play and... a ping pong game. Blurbage:
The action takes place during an actual 90-minute game, with two college town colleagues meeting for their monthly session. But this night is different; there is something else in the room, and the evening becomes something more than just another match.
As it happens, the play is set in Schenectady. Backstory blurbage:
[Writer/actor John] Ahlin discovered the city's curious name as a child, on family drives from Westchester to the Adirondacks, and he was held forever in thrall by its odd collection of consonants ("I became one of the fastest spellers of Schenectady around," he says, chuckling). As fate would have it, he married a woman from Schenectady, and his longtime fascination found fruition in ChipandGus.
"My character," he says, "in particular, is a champion of the city's great dynamic history, and its glorious denizens and visitors over the years."
Ahlin plays one side of the game, fellow writer/actor Christopher Patrick Mullen the other. And apparently they really are playing ping pong during the show.
ChipandGus is Friday, November 20 at 7:30 pm in the GE Theater at Proctors. Tickets are $20 and $30. Proceeds benefit the Schenectady Light Opera Company.
photo via ChipandGus FB page