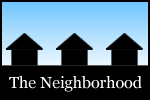 Among the topics in this most recent spin around the Capital Region's online neighborhood: Bob & Ron's, local icons, a choice facing Albany, close calls, Albany media then, Moreau Lake, a bar tab, sushi, the Gateway, fast food, pizza, a found couch, and going around and around.

Chuck recalled memories of the Bob & Ron's Fish Fry on Central Ave in Albany and the recurring role it's played in his life.
Daniel encouraged people to appreciate local icons while they're still around.
The ongoing back-and-forth over the Washington Ave/Lark Street bus stop prompted Sandy to remark that Albany is facing a choice about what sort of place it wants to be.
Randal considered whether he should continue sharing some of the close-call traffic experiences he has while riding a bike.
Carl provided a snapshot of Albany media circa 1886.
Jackie gave thanks for Moreau Lake State Park.
Steve shared the story of the $58 bar tab for two drinks.
Julie tried Yoshi Sushi in Latham.
Zena's diner series stopped at the Gateway Diner.
A moment watching a McDonald's kitchen at work prompted Otis to think about the fast food industry.
Albany Jane shared some pics from the pizza party Jon hosted for some former Tournament of Pizza judges. (We would happily stand in Jon's garage to eat pizza again.)
Silvia -- and found couch -- provided her kids with what will no doubt be a funny story for years to come. (And mark Silvia down as another fan of Tara Kitchen.)
And Jon went around and around.