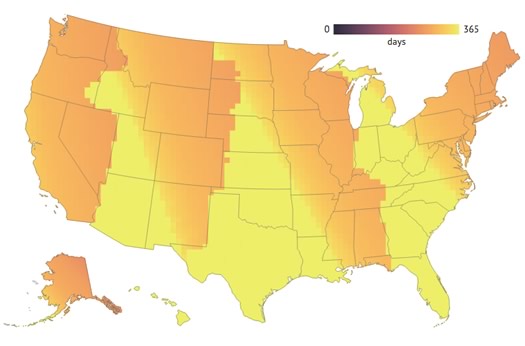 Check out this map: It depicts how many days out of the year with sunsets after 5 pm in each place around the United States. It was created by cartographer Andy Woodruff as part of a look at how standard time and daylight savings time affects sunrise and sunset times around the country. Woodruff built interactive maps to depict differences if the country just stayed on standard time all the time -- or went with daylight savings time all the time. (It'll make sense when you see it.) Head on over and click about. [via CityLab]
We're coming up on the shortest daylight day of the year -- it's December 21, the winter solstice (as you know). But if you're anything like us, it's the early sunsets that are kind of gloom inducing. And the earliest sunsets of the year are just about a week away -- December 7-10 -- 4:21 pm.
To illustrate the how the length of sunlight expands and contracts through out the year here, we pulled together a few graphs. Have a look -- they're after the jump.

Graphs are above in large format -- click or scroll all the way up.

Hi there. Comments have been closed for this item. Still have something to say? Contact us.