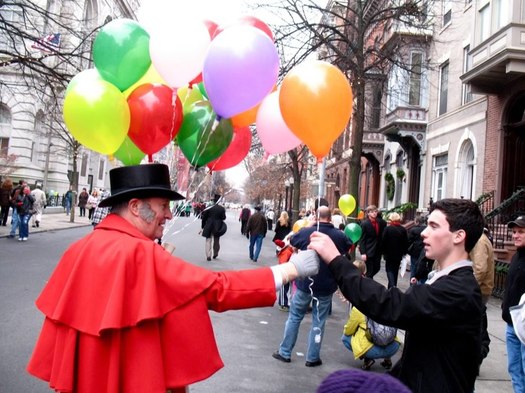 It's now December and the Capital Region's bag of holiday-themed events is stuffed with tree lightings, Victorian strolls, concerts, screenings of holiday classics, and a bunch of other activities.
And here's a big list of them...
This isn't a comprehensive list. If there's something you think should be listed, please share in the comments.
Looking for local holiday markets? We have a list of those, too.
November 27-December 27: A Christmas Story, The Musical! at Capital Rep
A musical stage adaptation of the now-popular Christmas film. various times - $20 and up
December 2: City of Albany Holiday Tree Lighting
Holiday tree lighting in Academy Park, carillon concert, and city hall open house. 4:30 pm-7 pm - free
December 3: Saratoga Springs Victorian Streetwalk
Broadway in downtown Saratoga Springs will be closed from 5-10 pm for food, entertainment and all sorts of holiday stuff. The tree lighting in front of 435 Broadway (Putnam Market) at 6 pm. 6-10 pm - free admission
December 3-6: Holiday Greens Show at the Hart Cluett House
The 59th annual Holiday Greens Show, organized by the Van Rensselaer Garden Club and the Rensselaer County Historical Society, is at the Hart-Cluett House in downtown Troy. It's annual holiday display of decorations with "fresh trees, flowers, and greens." various times - various prices
December 4: Ballston Spa Holiday Parade & Tree Lighting
Holiday parade down Milton Avenue to Wiswall Park on Front Street. Tree lighting, Santa, carolers, open shops. 6:30-8 pm - free
December 4: Live From WVL Radio Theatre: It's A Wonderful Life radio theater show at Proctors
"This fresh new adaptation of the film is set in the fictional studio of WVL Radio Theatre, which is struggling to stay on the air one snowy winter's night. The professional voice actors are unable to get to the studio, but the show must go on--and so a small but intrepid band of employees manages to create the story's dozens of characters and scenes using just their voices and some everyday household items for sound effects." 7:30 pm - $35
December 4: It's a Jazzy Christmas at Massry Center
Popular annual concert of Vince Guaraldi holiday music (you know, as heard in the Peanuts cartoons). It's a fun show -- and a good one for kids. 6 pm - $20 / $10 students / kids 5 and under free (with ticket)
December 4-13: A Radio Christmas Carol at Proctors
"At a small public radio station in upstate New York , who's announcers are busy retelling the Charles dickens classic story on Christmas Eve, art imitates life as the radio station owner Eb Scrooge undergoes a metamorphosis and finds out the meaning of Christmas Day." In the Fenimore Gallery. various times - $18.50 / $15.50 students and seniors
December 5: Hudson Winter Walk
"Hudson's mile-long Warren Street is transformed into a festive boulevard with twinkling lights, brightly decorated shops, Mr. and Mrs. Santa Claus, live reindeer, petting zoo, horse-drawn wagon, carolers, and a legion of characters and performers." 5-8 pm - free admission
December 5: Chatham Winterfest
Artisan market, entertainment, open shops in the village center. 10 am-4 pm
December 5-6: Northeast Ballet The Nutcracker at Proctors
Annual performance. December 5 at 7 pm / December 6 at 2 pm - $20 and up
December 6: Troy Victorian Stroll
All sorts of holiday whatnot in downtown Troy, including music, food, decorated store windows, and people in costume. 11 am-5 pm - free admission
December 6: Holiday tree lighting at the Empire State Plaza
Music, ice skating, reindeer, fireworks, a really big tree. The Taste NY Holiday Expo is also that day at the State Museum ($5). And the Great Train Extravaganza is in the ESP Convention Center ($7 / under 12 free). events start at 1 pm / fireworks at 5:30 pm - free admission
December 6: Taste NY Expo at the State Museum
"Sip, sample and shop at the New York State Museum's 2nd Annual Taste NY Holiday Market. Enjoy an array of "made in New York" specialty food and beverage vendors, including hand-crafted beer, wine and spirits, cheese, chocolate, apple and maple products, and other edible gifts." Also: demos, activities, and a chocolate fountain. 11 am-4:30 pm - $5 / 12 and under free
December 6: ASO Magic of Christmas at The Palace
Popular annual Christmas show. 3 pm - $28 and up / $14 and up kids
December 6: The Zucchini Brothers at The Egg
Holiday show from the family rock band. 2 pm - $12 kids / adult in free with a kid
December 8: Trailer Park Boys "Dear Santa Claus Tour" at The Palace
"Spend an evening with the boys for a Christmas sh%* show you will never forget!" 8 pm - $35 and up
December 8: The Messiah at The Cathedral of All Saints
"Woodrow Bynum leads The Cathedral of All Saints Choir of Men & Boys, and a period instrument orchestra in a performance of Handel's masterpiece ... The work, sung in its entirety, features guest soloists Sarah Brailey, soprano, Emily Marvosh, alto, Jack Swanson, tenor, and Nathaniel Webster, baritone, and performed in the Gothic splendor of The Cathedral of All Saints." 7 pm - $25 / $20 seniors / $15 students / $10 under 12
December 10: Moscow Ballet's Great Russian Nutcracker at The Palace
" All ages feel the spirit of the season at Great Russian Nutcracker performances through the beauty of romantic hand-sewn costumes, 9 shimmering backdrops with authentic splashes of Russian history and fanciful effects such as; life-sized Matrushka (Nesting) Dolls; a 3-headed Rat King and a Troika Sleigh ride through the magical Snow Forest (with falling snow) escorted by Father Christmas and Snow Maiden." 7 pm - $31 and up
December 11: Mendelssohn Club Holiday Concert at The Egg
"The Mendelssohn Club of Albany performs its annual Holiday Concert: Winter Wonderland with Guest Artists: Bell Top Boys Choir and Karlinda Caldicott, Harpist" 7:30 pm - $20
December 11-12: Sharon Springs Victorian Holiday Celebration
"You can count on Santa being here, and this year we expect a visit from Mrs. Claus and her helpers who will be serving up hot chocolate, cider and some delicious holiday treats. Of course. we will have our Christmas traditions - The Christmas Chicken, Christmas Caroling and all the other festive happenings here in Sharon." Starts the evening of December 11 with the Festival of Lights Parade. various times - free admission
December 12: Santa Speedo Sprint
People dashing down Lark Street in scant, holiday-themed attire. For charity. sprint starts at 2 pm at Lark and Madison - registration is $25 to run
December 12: Downtown Schenectady's City Hall-iday
"Members of the regional community are invited to gather family and friends and head to Schenectady's spectacular City Hall in the heart of downtown for a fun-filled afternoon of music, crafts, demonstrations, performances and more..." noon-4 pm - free admission
December 12: Albany Pro Musica The Many Moods of Christmas at Troy Music Hall
"A moving program anchored in Ralph Vaughan Williams' powerful Fantasia on Christmas Carols and Robert Shaw's beautiful collection, The Many Moods of Christmas." 7:30 pm - $25 and up
December 12-13: Mountain Snow and Mistletoe at The Egg
The annual bluegrass holiday show. Saturday 7:30 pm / Sunday 2 pm - $25
December 13: Historic Albany Foundation Holiday House Tour
"The tour moves from neighborhood to neighborhood highlighting the very best in Albany's architecture and ongoing preservation efforts." noon-4 pm - $25 / $15 students before December 9 | $30 / $20 students after December 10
December 14: A Christmas Story at The Palace
Screening of the classic Christmas movie. 7 pm - $5 / $3 kids
December 17-20: Melodies of Christmas at Proctors
Annual holiday concerts featuring the Empire State Youth Orchestra and Youth Chorale. various times - $15 and up
December 18: It's a Wonderful Life at The Palace
A screening of the classic film in the old movie palace. 7 pm - $5 / $3 kids
December 18: Every Christmas Story Ever Told (And Then Some!) at The Linda
"Instead of performing Charles Dickens' beloved holiday classic for the umpteenth time, three actors decide to perform every Christmas story ever told...plus Christmas traditions from around the world, seasonal icons from ancient times to topical pop-culture, and every carol ever sung. A madcap romp through the holiday season!" A Confetti Stage production. 7:30 pm - $15
December 18: Be the Light: Songs for the Christmas Season with the Jamcrackers at Old Songs
Folk holiday concert. 8 pm - $20 / $5 12 and under
December 19: West Point Jazz Knights at The Linda
Annual big band holiday concert. 7 pm - free (reservation required, and it's filled up in years past)
December 19: The Puppet People present A Christmas Carol at Old Songs
"This puppet spectacular features beautiful handcrafted marionettes, shadow puppets, gorgeous masks, lavish costumes, vivid sets, a professional soundtrack that includes many holiday favorites, a giant 9-foot parade puppet and guaranteed smiles!" 2 pm - $15 / $10 12 and under
December 19: Holiday Folk Show at Caffe Lena
"The time when festive folks across the region come to Caffe Lena to enjoy a 'Candlemas-Hanukkah-Ramadan-Solstice-Christmas-Kwanzaa-New Year-Boxing Day-Epiphany Event.'" 8 pm - $20 / $10 kids and students
December 19: Magpie and Kim & Reggie Harris: Sing Solstice at Proctors
Eighth Step show of holiday music. 7:30 pm - $24 and up
December 19: Albany Berkshire Ballet performance of The Nutcracker at The Egg
40th anniversary show. 1:30 pm / 5:30 pm - $25 and up
December 19-20: Production of A Charlie Brown Christmas at The Palace
"The classic animated television special, A Charlie Brown Christmas comes to life in this faithful stage adaptation where Charlie Brown, Snoopy and the other Peanuts grapple with the real meaning of Christmas. " Presented by the Park Playhouse. December 19 at 2 pm and 7 pm / December 20 at 2 pm - $20 / free for kids 12 and under
December 21: The Hip Hop Nutcracker with Guest MC Kurtis Blow at Proctors
"A holiday mash-up for the whole family, The Hip Hop Nutcracker re-imagines Tchaikovsky's classic score through explosive hip hop choreography." 7:30 pm - $20 and up
December 22: Screening of Irving Berlin's White Christmas at The Palace
Screening of the film that includes the classic song. 7 pm - $5 / $3 kids
December 22-27: Irving Berlin's White Christmas at Proctors
A touring production of the stage musical based on the film of the same name. various times - $20 and up
December 26: Wizards of Winter at The Egg
"The Wizards of Winter are an eclectic group of musicians with strong Classical and Progressive Rock influences formed to faithfully reproduce the music of the Trans- Siberian Orchestra (TSO) and present it in a more intimate setting." 8 pm - $29.75 and up
Hi there. Comments have been closed for this item. Still have something to say? Contact us.