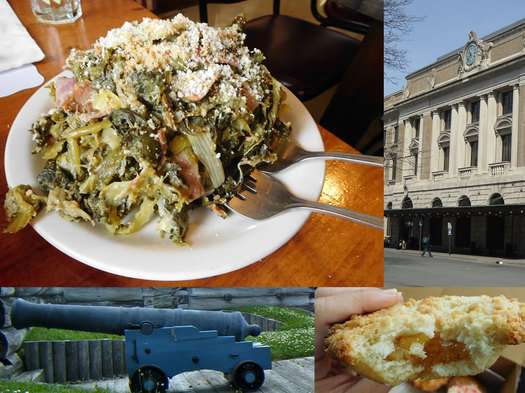 By Julie Madsen
Utica and Rome are like Albany and Troy. They go together and when visiting one, you may as well visit the other to double your fun.
These cities rose with the canal and railroad connecting eastern New York with the Great Lakes region. But, like many other upstate cities, the last half century has included some rough times as they lost manufacturing and population. Today they are doing their best to come back.
You can reach the cities with ease -- just an hour-and-a-half drive on I-90 will get you into Utica and an additional 20 minutes to get to Rome. (Just about an hour farther west and you're in Syracuse, but save that for another day.) You can also take the Amtrak train into either of the cities.
There is a lot to see here, fine food, history, and fun to be had. Just head west.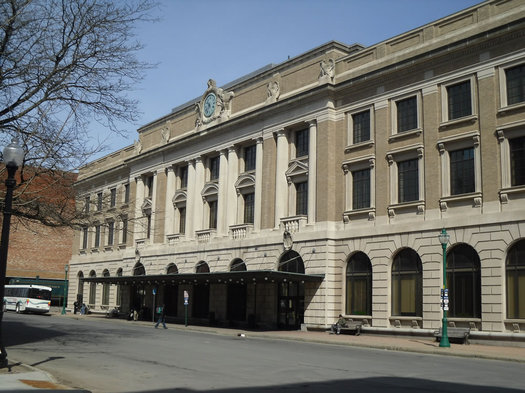 Union Station in Utica. / photo: Doug Kerr (CC BY-SA 2.0)
Regional Cuisine
The cities of Central New York have developed their own unique culture over time. One way to explore that culture is to try their regional cuisine. You can find these dishes in many establishments, all with their own flair. Here are some restaurants which serve the signature food of Utica and Rome:
Utica Greens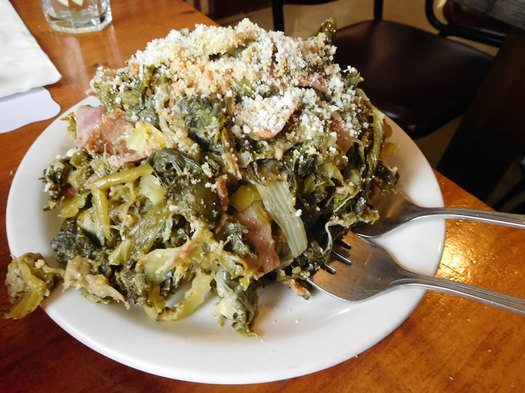 The greens are generally comprised of sautéed escarole, hot peppers, cheese, breadcrumbs, and prosciutto. For a fine taste of this dish head to Vescio's Franklin Hotel in Rome for Greens Vescio. Service is warm and friendly, enjoy delicious samplings from the rest of their menu as well. 301 S James St, Rome, NY 13440
Chicken Riggies
An ultimate comfort food sure to leave you stuffed and satisfied. Made of chicken, rigatoni, peppers, and a creamy tomato sauce. Try them at the Chesterfield Restaurant in Utica. 1713 Bleeker Street, Utica, NY 13501
Tomato pie
Tomato pie is kind of like a pizza -- it's a square foccacia-like crust that's predominately topped with tomato sauce (on top of cheese). Its roots in Utica stretch back to the early 1900s. O'Scugnizzo Pizzeria's is more than a century old and a favorite spot for it. 614 Bleecker St, Utica, NY 13501
Pusties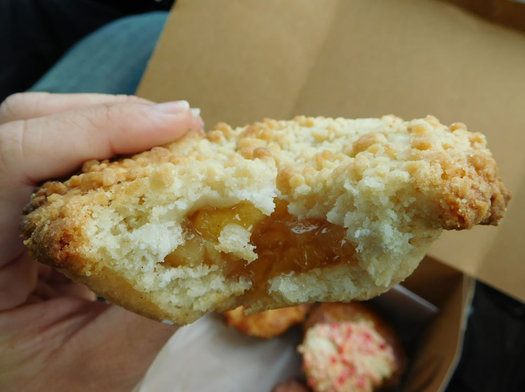 Pasticiotti, regionally known as pusties, are a traditional Italian dessert. The pastries can be filled with a variety of flavors ranging from seasonal apple and pumpkin to chocolate or lemon. Try them at Florentine Pastry Shop, open since 1928. 667 Bleecker St, Utica, NY 13501
Matt Brewing Company
Saranac is a pretty popular brew in our parts and it's produced in Utica. There are tours, tasting room, and gift shop at the brewery. You can make tour reservations online, they hold them Fridays and Saturdays (and more frequently during the summer). The tours are $5 and last approximately 45 minutes. 830 Varick Street, Utica, NY 13502
Things to do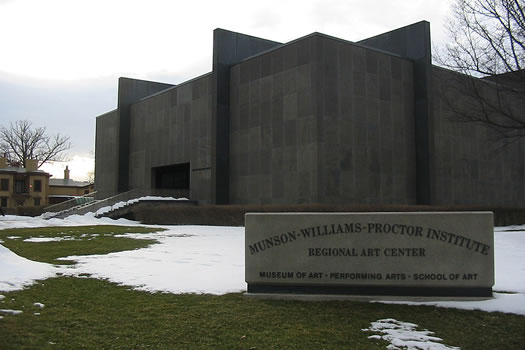 The Munson-Williams-Proctor Arts Institute / photo: Jeremy M. Mancuso, via Wikipedia, licensed under Public Domain via Commons
Munson-Williams-Proctor Arts Institute
From the architecture to the art inside, this museum is a local treasure. Three hundred years of American art including paintings, sculptures, decorative arts, there is quite a variety housed within these walls. 310 Genesee Street, Utica, NY 13502
Utica Zoo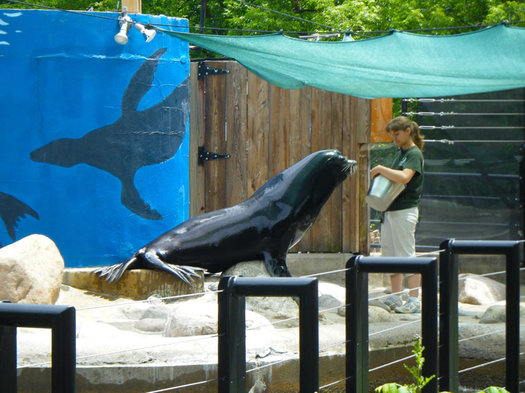 For a smaller zoo, the Utica Zoo has a lot. You will find a variety of animals -- lemurs to lions -- accompanied by educational facts. You can spend an hour or most of a day, with activities such as talks, feedings, and petting zoo. And it's very affordably priced: children are $2.50 and adults are $4.50. 1 Utica Zoo Way, Utica, NY 13501
Utica Marsh Wildlife Management Area
The Utica Marsh Wildlife Management Area is an urban wetland situated between the Mohawk River and the New York State Barge Canal, on the edge of the city of Utica. The trails are excellent for birding and wildlife study within the Marsh habitat. Make sure to visit the viewing platforms to get a look from a different angle. 207 Genesee Street, Utica, NY 13501
Fort Stanwix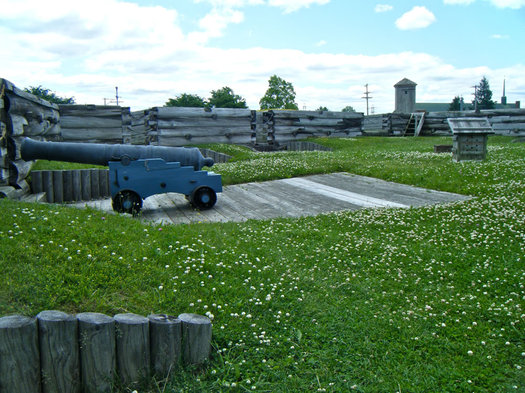 Revolutionary history comes alive at the Fort Stanwix National Monument. You can learn about the colonial fort where Americans held out against a British siege during the Revolutionary War. The Willett Center houses artifacts and informative displays, and the adjacent reconstructed fort allows you to experience what life was like within the walls. 100 N James St, Rome, NY 13440
Adirondack Scenic Train
The Adirondack Scenic Train carries tourist riders on a restored New York Central railroad line between Utica Union Station and spots in the Adirondacks. (Check the schedule for the different available trips -- during December it's offering "Polar Express" trips.) 321 Main St, Utica, NY 13501
Old Main
A building you might be interested in passing to by for a look is the Utica State Hospital, also known as "Old Main." It was originally built in 1843 as the New York State Lunatic Asylum, one of the first facilities in the country for the treatment of mental illness. The architecture is in the Greek Revival style, and the front includes a series of huge columns. The building closed in the late 1970s and fell into significant disrepair. But recent years have seen a restoration effort, and the building is occasionally open for tours. 1213 Court St, Utica, NY 13502
Nearby
Erie Canal Cruise
For warmer weather: Erie Canal Cruises offers scenic cruises on the Mohawk River, traveling through a 100-year-old lock that raises and lowers the water level by 20 feet. The cruises include historical narration and and beautiful scenery on your journey. Cruises operate May through October. 800 Mohawk St, Herkimer, NY 13350
Turning Stone Resort Casino
Not technically in Utica or Rome, Turning Stone is close enough to swing by if you're feeling lucky. 5218 Patrick Rd, Verona, NY 13478
Julie has got the travel-bug. Whether it's day trips, weekend getaways, or wandering around the world -- she's always up to something. Read more about her adventures at juliejourneys.com.
Earlier on AOA: Day trip: Syracuse
Say Something!
We'd really like you to take part in the conversation here at All Over Albany. But we do have a few rules here. Don't worry, they're easy. The first: be kind. The second: treat everyone else with the same respect you'd like to see in return. Cool? Great, post away. Comments are moderated so it might take a little while for your comment to show up. Thanks for being patient.