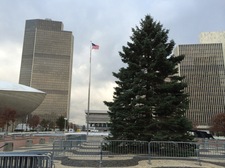 We got a question from Hollie this week via the Facebook about where to get a real/live Christmas tree and how much one typically costs. (Hollie was specifically interested in the Troy/Rensselaer area.)
This seemed like a good opportunity for a quick, informal tree survey. So...
If you've bought a real/live Christmas tree this year, where'd you get it -- and how much did it cost?
Please drop your answer in the comments. If we get enough answers, maybe we can get some sort of picture of Christmas tree prices.
Hi there. Comments have been closed for this item. Still have something to say? Contact us.