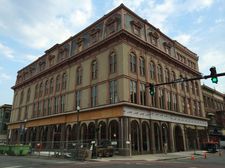 The Tech Valley Center of Gravity is hosting an Internet of Things Hackathon January 30-31. Blurbage:
The hackathon's theme is The Internet of Things (IoT) which is the network of physical objects or "things" embedded with electronics, software, sensors, and network connectivity, which enables these objects to collect and exchange data.
There will be a top prize of at least $1,000, as well as other giveaways including a free TVCOG membership. But [Erica] Iannotti says most hackers will come for the camaraderie, the excitement of competition, the good food (in addition to Cheetos) , the bragging rights and, most of all, the opportunity to mess with hardware they cant afford to own themselves.
"Most hackathons focus on software, this one will combine software, hardware and the Internet," Iannotti said. "Teams of hackers will spend the weekend at TVCOG making software to connect physical objects to the Internet in new and interesting ways."
Judges will include Jeff Branson from SparkFun Electronics and Kishor Bagul, an entrepreneur former chief technology officer of New York State. The event is being sponsored by AT&T.
It's free to participate, but pre-registration is required.
And when an army of internet-connected toasters recruits the Green Island Bridge as part of their uprising, you'll know what happened.
AOA is a media sponsor of TVCOG