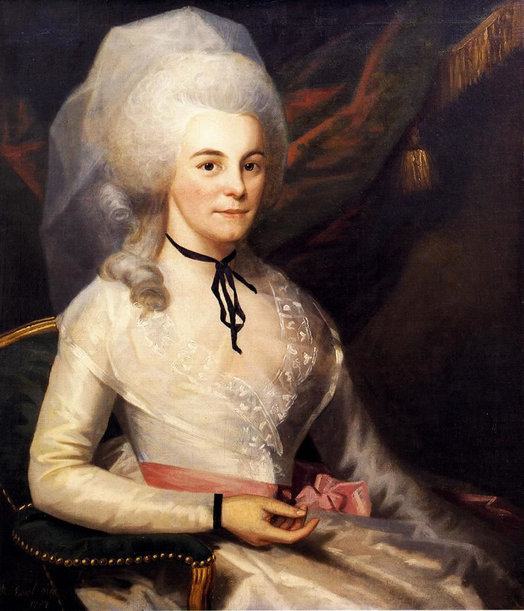 This historical bit got mentioned in passing last week in a different post, but we thought it was worth highlighting again today because of the date: Alexander Hamilton not only spent time in Albany, but he married Elizabeth Schuyler at the Schuyler Mansion in south Albany on December 14, 1780.
The National Archives has a handful of letters Hamilton sent to Elizabeth Schuyler -- he calls her Betsey -- leading up to the wedding. Here's a clip from a letter sent October 5, 1780 from near the New York/New Jersey border as Hamilton was making his way north:
I have told you, and I told you truly that I love you too much. You engross my thoughts too intirely to allow me to think of any thing else--you not only employ my mind all day; but you intrude upon my sleep. I meet you in every dream--and when I wake I cannot close my eyes again for ruminating on your sweetness. 'Tis a pretty story indeed that I am to be thus monopolized, by a little nut-brown maid like you--and from a statesman and a soldier metamorphosed into a puny lover. I believe in my soul you are an inchantress; but I have tried in vain, if not to break, at least, to weaken the charm--you maintain your empire in spite of all my efforts--and after every new one, I make to withdraw myself from my allegiance my partial heart still returns and clings to you with increased attachment. To drop figure my lovely girl you become dearer to me every moment. I am more and more unhappy and impatient under the hard necessity that keeps me from you, and yet the prospect lengthens as I advance. ...
The next paragraph might be considered NSFP -- not safe for the parlor:
I had hoped the middle would have given us to each other; but I now fear it will be the latter end [apparently he's referring to arriving in Albany in late November]. Though the period of our reunion in reality approaches it seems further off. Among other causes of uneasiness, I dread lest you should imagine, I yield too easily to the barrs that keep us asunder; but if you have such an idea you ought to banish it and reproach yourself with injustice. A spirit entering into bliss, heaven opening upon all its faculties, cannot long more ardently for the enjoyment, than I do my darling Betsey, to taste the heaven that awaits me in your bosom. Is my language too strong? It is a feeble picture of my feelings--no words can tell you how much I love and how much I long--you will only know it when wrapt in each others arms we give and take those delicious caresses which love inspires and marriage sanctifies. ...
Hamilton and Schuyler were both 23 at the time they got married (well, Hamilton was probably 23). In many of his letters to her leading up to that December, Hamilton writes of dreaming about Schuyler, and about his apprehension that maybe she didn't feel the same way about him. Apparently she wasn't writing to him often and that was starting to mess with his head a little bit.
The couple had very different backgrounds. Hamilton, of course, was born out of wedlock in the Carribean, emmigrated to America and worked his way up to be George Washington's aide during the revolution. Elizabeth Schuyler was born in Albany to one of New York's wealthiest families. Her father, Philip Schuyler, was a Revolutionary War general and her mother was Catherine Van Rensselaer Schuyler (as in the Manor of Rensselaerswyck).
The marriage of Hamilton and Schuyler ended up including many children -- and much drama. Alexander Hamilton had an affair that went public, and of course, there was the duel with Aaron Burr. It's said that Elizabeth Schuyler often advised Hamilton in his political dealings. And she was actively involved in charity work for many years before dying in 1854 at the age of 97.
Say Something!
We'd really like you to take part in the conversation here at All Over Albany. But we do have a few rules here. Don't worry, they're easy. The first: be kind. The second: treat everyone else with the same respect you'd like to see in return. Cool? Great, post away. Comments are moderated so it might take a little while for your comment to show up. Thanks for being patient.