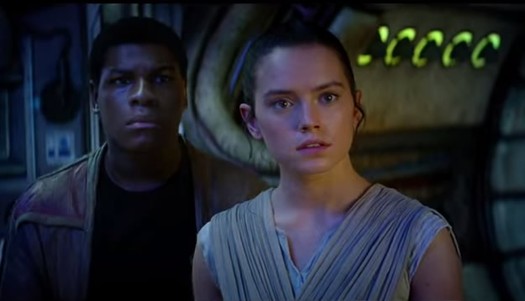 Our license to publish things on the internet will apparently be revoked if we don't do something about the new Star Wars film, so here's our offering:
Of all the screenings at Capital Region theaters* on Friday, "opening" day** for Star Wars: The Force Awakens, almost 30 percent will be Star Wars in some format.
Of the 403 movie screenings local theaters have scheduled for Friday, 120 of them are Star Wars. A little more than half are 3D screenings, about 40 percent are "regular" screenings, and four percent are IMAX screenings. As of Thursday morning, seven screenings were already sold out.
The Regal Crossgates has the most Star Wars screenings scheduled, 35 (15 regular, 15 3D, 5 IMAX), followed by the Regal Colonie Center with 26 (11 regular, 15 in 3D).
The next two movies in terms of total local screenings: In the Heart of the Sea (a little more than 10 percent) and Alvin and the Chipmunks: The Road Chip (almost 10 percent).
If you're so inclined, there's a table below counting up all scheduled screenings for Friday across local theaters.
* In this case, local theaters are: Crossgates, Colonie Center, Madison Theater, Spectrum 8, Palace Theatre, Regal East Greenbush, Proctors GE Theater, Bow Tie Schenectady, Rotterdam Square Cinema, Scotia Cinema, Regal Clifton Park, Criterion Saratoga Springs, Wilton Mall Cinemas. Scheduled screening counts via Fandango.
** Friday is the official opening day for Force Awakens, but it's not really the opening the day. The film will be opening in theaters around the country Thursday evening -- including a handful of screenings here in the Capital Region. So big is the Thursday evening opening that there are projections Star Wars could rack up $50 million in box office that night alone. That sort of total would be a solid opening weekend for many large-budget movies. [Deadline]
Scheduled screenings all movies across Capital Region theaters for December 18, 2015
____
screengrab from Star Wars: The Force Awakens trailer
Hi there. Comments have been closed for this item. Still have something to say? Contact us.