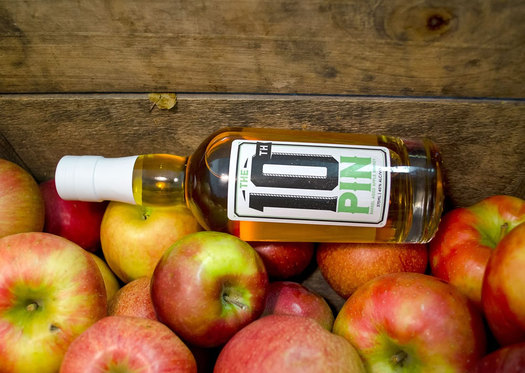 By Deanna Fox
OH, DANG! You have a holiday party to go to, and you blanked on bringing a gift or a dish to pass, didn't you?
Don't worry, it happens, especially with the hustle of the holiday season.
Fear not: We, your dear friends in the holiday spirit, are here to set you on your merry way with a few suggestions for last-minute grab-and-go items that will have everyone thinking you've definitely got your ho-ho-ho together.
Rainbow Cookies from Bella Napoli
Italians and non-Italians alike will rejoice in a box of these little multi-hued morsels. You can lose with a quick dessert like this. (Bella Napoli also sells cookie platters that make presentation easy, too.)
Bella Napoli: 672 New Loudon Rd, Latham | 721 River Street, Troy
Panettone from The Cheese Traveler
You could call ahead, give Eric Paul (the cheesemonger) your budget, and ask him to wrap some cheese and meats for you... or you could just pick up a pre-wrapped panettone, which is a perfect Christmas Eve dessert or nosh during Christmas morning. Grab a handful of those great salted caramel suckers by the register, too. Keep them in your pocket and hand out to little tykes during the festivities (or put in stockings). You'll win the holiday party (save for that strange uncle with candy vibe.)
The Cheese Traveler: 540 Delaware Ave, Albany
Hanukkah, Chanukkah Beer from Shmaltz Brewing Company
Sure, Hanukkah's already over for this year. But most beer stores will still have a four-pack of these brews on hand -- or you can swing by the company's Clifton Park tasting room and grab some, too. Option B: The Shtick in a Box gift pack, with a variety of Shmaltz beer. Option C: Asking the kindly folks at your nearest beer outlet to help you select a variety of locally produced winter- and holiday-themed beer. Tell your host it's a "sampling" party. People love that stuff.
Shmaltz Brewing Company: 6 Fairchild Square, Clifton Park
The 10th Pin Barrel Aged Apple Brandy from Nine Pin Cider and Albany Distilling Company
Can't decide between a bottle of whiskey and a bottle of cider. Choose both! This just-released collaboration between two Albany darlings shows you have both excellent taste and are up-to-date on food world happenings. Look for Harney and Sons Apple Cinnamon Tea (locally blended in the Hudson Valley) or Short and Stout's Winter Spice Tea to pair with it. Instant toddies.
Nine Pin Cider Works: 929 Broadway, Albany | Albany Distilling Co.: 78 Montgomery Street, Albany
Cheese from Worldling's Pleasure
Like a cheese ball, but so, so much better. Try the New York Maple Cheddar variety with some locally-made crackers (like those from Saratoga Crackers) to bring a new spin to the classic cheese tray.
Wordling's Pleasure products are available in some supermarkets and retail locations, such as Gade Farm in Guilderland
Bacon from Oscar's Smokehouse
Give it to your host and tell them, "I just thought you might like a little breakfast inspiration after throwing such a great party!" Pray they haven't suddenly gone vegan. If you actually have the time, preheat your oven to 400℉ and line a rimmed baking sheet with foil. Combine ½ cup of brown sugar with 1 teaspoon or black or cayenne pepper. Lay the bacon on the foil, press the top of each piece with a bit of the sugar/pepper mixture, and bake for 20 minutes. Let cool slightly before removing and placing on a platter. Voila: Bacon candy!
Oscar's Smokehouse: 22 Raymond Lane, Warrensburg and various retail locations such as the Niskayuna Co-op
Dog Cookies from Henry Loves Betty
Yes, cookies for dogs, from this pet boutique in Troy. If your host has a furry friend in the house, opt for a little gift for the four-legged among us.
Henry Loves Betty: 195 River Street, Troy
Cherry Cordials from Krause's
Grab two pounds -- one milk chocolate, one dark -- and present the boxes on the feasting buffet. No one can resist them, and sometimes just a small taste of something sweet is all you need anyway.
Krause's Homemade Candy: 1609 Central Avenue, Colonie
Dumplings from Ala Shanghai
Have YOU ever been mad when someone showed up with a big Chinese takeout box? Didn't think so. Dumplings are a great two-bite appetizer option that few will ever complain about. Call in an order for some to-go.
Ala Shanghai: 468 Troy Schenectady Road, Latham
Deanna Fox writes about many things, mostly about food. More can be found on her website, Twitter, or Instagram.
Nine Pin advertises on AOA.
Hi there. Comments have been closed for this item. Still have something to say? Contact us.