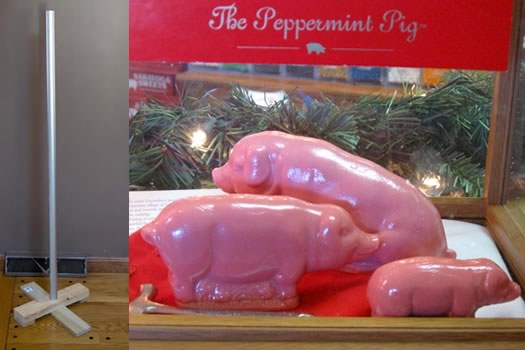 The drawing for the Peppermint Pigs is now closed!
This week many people will celebrate a holiday that brings us all together... to complain.
Yes, Festivus is near. And we will once again commemorate the day with a traditional Airing of Grievances.
So, what are your small annoyances, complaints, or frustrations?
Gather round the unadorned aluminum pole, let it rip, and let it go. You'll feel better. It's good to get it out before facing your relatives and the questions about why you're not married/don't have kids/aren't making more money and that one uncle who only gets his news from email forwards and Facebook.
But here's the deal: Grievances can not include personal attacks, nastiness, or creepiness. (You'll know it when you see it.)
To balance the bitter with the sweet, as is tradition, we will give Peppermint Pigs to two people who air their grievances in the comments. The winners will be picked randomly.
The Editors will begin the Airing after the jump. We're looking forward to hearing your grievances. (You're on your own for the Feats of Strength.)
Merry Festivus.
Important: To be eligible for the Peppermint Pig drawing, your comment must be submitted by 11:59 pm on December 22, 2015. You must include a working email address (that you check regularly) with your comment. Normal commenting guidelines apply. One entry per person, please. Winners will be notified by noon on Wednesday, December 23 and must respond by noon on Monday, December 28.
Mary's grievances
With every passing year I realize how little I really have to complain about. But, hey, it's Festivus, so in the spirit of the holiday, a few things that drive me nuts.
Applause
People who bolt from the theater or concert hall before the curtain call is finished. Performers work hard, and even the few who are making good money, likely went through many years of struggle to achieve success. So it drives me a little nuts when people who paid for a ticket run out as soon as a show is over -- or in some cases before a show is over -- so they can be the first ones to the parking lot. Stick around, applaud a little and say thank you. It's part of the whole experience of a live show.
Road bullies
You're doing the speed limit -- maybe even a few mph more -- and someone comes up on your tail, rides your bumper and and flashes the high beams because you're not going fast enough for their taste. Don't be that guy.
Cookies
Why can't you eat all you want without getting fat. Or diabetes.
Greg's grievances
The way we talk to each other
One of the great things about the internet is that it's allowed all sorts of people to talk with all sorts of other people they might not have otherwise had to the chance to meet. And on the whole, I think we're all better off for that. But it's also exposed that we collectively are bad at having important, nuanced, or critical discussions with each other online about stuff that matters. (That's probably true in person, too.) Sure, some of that might be a result of format -- Twitter's too short, you don't have to look a person in the eye while leaving a FB comment, and so on -- but blaming the constrictions of format for the problem is letting us all off the hook from trying to be better. Our complaints, criticisms, calls for change, expressions of dissatisfaction don't have to demonize, demean or threaten other people.
Litter
It makes me a little twitchy sometimes to see how much litter there is around our area, even in residential neighborhoods. I suspect some of this has to do with the way people put their trash out at the curb. Trash in trash bags! Trash bags in garbage cans! Lids on garbage cans! We can do this!
Tomatoes
There are about 2-3 months out of the year when tomatoes are in season around here and taste good. So why do so many restaurants insist on using slices of unripe or tasteless tomatoes on sandwiches all year long? Considering the cost and what I'm guessing is in the not-small environmental impact of growing this tomato-like matter in an irrigated desert somewhere and then trucking it across the country, it's just not worth it. So stop. Explain why, if you feel like you need to. I don't think people will miss them.
Me
I'm as guilty as anyone of letting myself get sidetracked by frustration or annoyance. I need to do a better job of reminding myself that in the big picture of things, I have it pretty good. And I should be thankful for that.
____
Festivus pole photo: Flickr user M. Keefe (CC BY 2.0)
Hi there. Comments have been closed for this item. Still have something to say? Contact us.