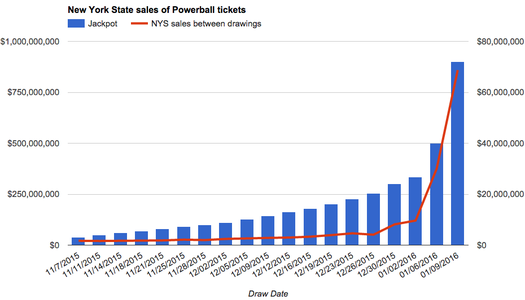 Wednesday night someone -- or multiple someones, or maybe no one -- will eleventy zillion dollars in the multi-state Powerball jackpot. OK, not eleventy zillion -- it will only be something like $1.5 billion.
That's an eye-catching number, even if you don't usually pay attention to lottery games. And that's the whole the point -- the org that manages the game changed the rules last year in an attempt to build huge jackpots in order to drive ever larger ticket sales.
And by now you probably know all about how playing the lottery isn't a good investment -- expected return and all that. If you're going to play the Powerball, buying a single ticket just for the conversation value is the way to go.
Anyway, we were curious how Powerball fever was playing out here in New York State. So we got county-by-county numbers from the New York Lottery...

Charts and map
This post is basically a few charts and a map -- they're above in large format, click or scroll all the way up.
Notes about the numbers
New York State Powerball sales numbers via the New York Lottery.
Population estimates are from the Census Bureau.
Hi there. Comments have been closed for this item. Still have something to say? Contact us.