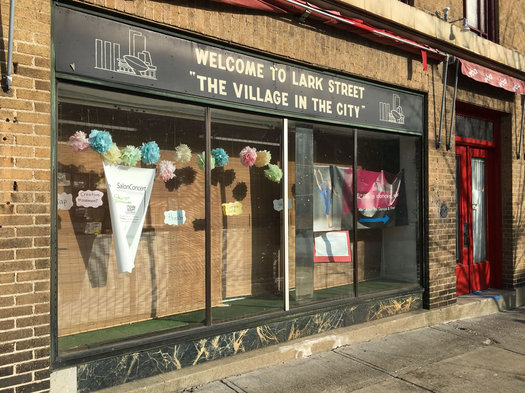 If there is one constant about cities, it is that they are always changing. Businesses open and close. People move in and out.
In Albany a lot of the recent discussion about neighborhood ebb and flow has been focused on Lark Street and the Washington Park neighborhood. The last few years have seen a lot of change on the stretch of Lark between Madison and Washington, and the recent closing of Justin's leaves another empty storefront on the street.
So is this part of the natural ebb and flow of a neighborhood? Or is it something more?
We asked a handful of people who live, work, and own businesses on Lark Street and in the surrounding neighborhood to share some of their thoughts about the direction of Lark Street -- and to tell us what they'd like to see happen in the neighborhood.
Matt Baumgartner
Entrepreneur, owner of Bombers, Wolff's, The Olde English
As someone who has owned a business on Lark Street for 20 years, and someone who lived on Lark Street for 10 years, I have witnessed the many ups and downs of Lark Street. Professionally, Bombers on Lark Street is thriving, so I can't complain. Personally, I miss the old Lark Street with the romantically-lit trees. I miss Justin's Restaurant from the 90s. I miss Shades of Green.
On a positive note, the newly opened Lark + Lily Wine Bar is exactly the type of business that Lark Street needs: independently owned by a caring, creative, smart businessperson like Silvia Lilly. I love that place. I wish more people like Silvia would come to Lark Street and open up cool NYC-style restaurants, they would do well.
I am not quite sure why Lark Street hasn't had the influx of new culinary talent like other areas have seen. Rent is affordable, the buildings are beautiful, there is a unique blend of built-in residential and commercial neighbors. It has been our most successful restaurant of all!
Lark Street needs to reach out and court businesses that will be good for the street. It requires someone on that team curating Lark Street, saying "We need to have a farm-to-table restaurant, we need a yoga studio, etc..." and making the phone calls to those specific private owners. They need to facilitate the conversation between the owners of those buildings and potential business owners.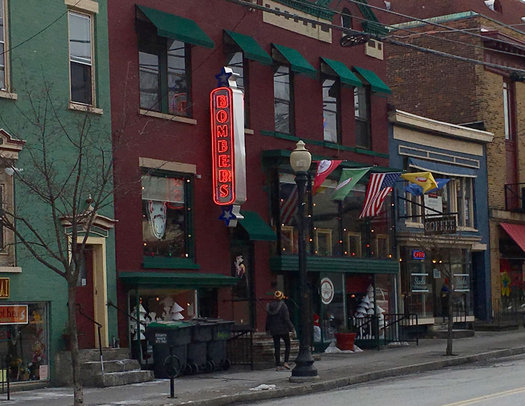 The very first time that happened to me was when Schenectady reached out to me for Bombers. At the time I had not been away from Union College and GE for very long. They had just renovated Proctors. I said, "I'm not ready to open anything in Schenectady." But they kept trying. Eventually I agreed, and they showed me three or four spaces, and just by doing that, it got my creative juices flowing. They were really "wining and dining" me. It felt good and made me feel important. They talked about incentives and how to buy a building and low-interest loans. They mentioned things that were real factors to me. And at the time, I bought the building really cheap.
That was the first experience of a city reaching out to me. The same thing happened in Rochester, and while I was there I tweeted about it, and Syracuse reached out and said please come take a look at us. I was not going to open a business in Syracuse, but I stopped by on the way home and they showed me this old firehouse and it was just perfect. In the last four months the mayor of Utica himself has called me four times and said, "I will not take no for an answer."
So I think Albany as a whole can do a lot better -- but Lark Street especially. And I think it requires someone at the Lark Street BID calling someone like Vic Christopher, for example, and saying, "I know you're a Troy boy, but we want to show you some buildings..." and showing him a few things. But I think Lark Street is doing the best they can given the resources.
Also, I don't want to beat a dead horse with the lights, but it was only because of the all-year-around Christmas lights that I went to Lark Street in the first place. It felt like a beautiful, little, romantic street and it doesn't feel like that anymore. However, as much as I love the Warehouse District in Albany, Lark Street will always be my favorite.
Jason D'Cruz and Shadi Khadivi
Neighborhood residents
Jason
In the last few years we've seen new businesses pop up that are started by young people who care about what they make or sell. Stacks Espresso bar has the right beans, the right tools, and the right processes. Brew fills growlers with craft beer that is selected for quality and freshness. Seasons Skate Shop is run by diehard skaters who cater to people who are equally passionate. It's true that we see business fail on Lark. To survive and to thrive, shops and restaurants must rise above the prevailing mediocrity. And that's a good thing.
Shadi
I think the direction is positive -- I think it is slow and steady. A lot of people are concerned about the Madison side of Lark Street with all of those restaurants closing down, but there are a lot of opportunities on the Washington Avenue side. The library has a maker studio space and if they ran out of space it would be amazing -- they could expand to the old Key Bank space. There's a lot of really nice business spaces --it's getting the businesses to open up.
Thinking about Lark Street not just as Lark Street but as the surrounding neighborhoods as a whole. Success on Lark Street is not just about Lark Street, it's also about Washington, it's about Madison. And Lark Street goes down to Clinton. They have to think of not being so car-centric and not trying to pull people in by saying, oh we have these opportune parking spots, but thinking about the fact that we are in a walkable community and it doesn't take much to get to these places. Walking up and down Lark Street is nice, but making a right onto Madison and coming back to Willett and coming back is even better.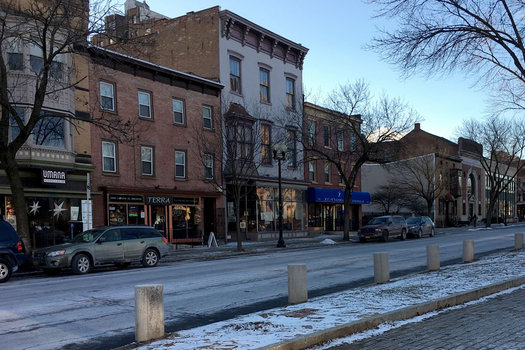 Washington Ave, across from Townsend Park, near Lark Street
I would love to see more outdoor cafes. The hope would be a really nice indoor farmers market where the Key Bank was. I would love to see businesses that are not just tchotchke shops. There's a lot of potential for restaurants -- we have a lot of great restaurants. I would love to see more stores that deal with housewares. My ultimate dream would be that building on Washington -- the four-story [former] car dealership -- on the first floor would be a really beautiful restaurant with local foods, above it would be a Crate & Barrel, above that would be a Marimekko or an Apple Store, and above that would be artist apartments that would be subsidized by the spaces below.
And if things like that happen on Washington or Central that would really impact Lark Street in a positive way because you are looking at it with a new lease. Townsend Park, to me, is a beautiful example of an urban opportunity... an outdoor farmers market there would be amazing. You could thread canopies through the trees and people could walk through there rather than through a parking garage.
Richard Conti
Albany Common Council member 6th Ward
When I look at Lark Street I look at the surrounding neighborhoods. As a mixed-use commercial corridor, Lark Street needs to build on the strength of its surrounding residential environment to draw support and grow, that also includes opportunities from daytime workers who commute into the neighborhood. That means a diverse business environment which includes food and entertainment as well as retail and service oriented establishments.
The residential communities surrounding Lark Street continue to show strength, and new residential and commercial developments in Park South should be seen as opportunities for further development. While we always focus on a vacant property, in recent years we've seen new investment and new businesses opening within the Lark Street neighborhood and new commercial space coming online. The challenge has always been creating a good assessment of need and a good marketing strategy to promote balanced development. I'm optimistic about the future.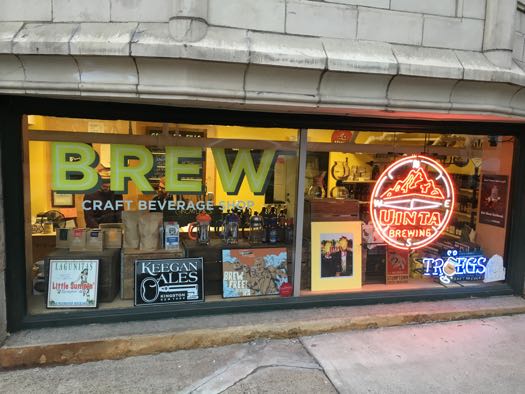 August Rosa
Co-owner of Brew
I'd love to see any storefront that says "for rent" on it to be utilized, and I feel like our shop is proof that good ideas can work in this environment and that the community will support them.
I'm absolutely hopeful. I think everything is cyclical and any storefront that you see that is not filled that says for rent, it will get there. It's just the natural progression.
Iggy Calabria
Crisan Bakery, Washington Park neighborhood resident
Lark Street is small and doesn't have much opportunity for business. Many of the buildings along Lark are residential, making a storefront impossible. People therefore do their shopping and browsing elsewhere. Lark offers mainly consumables with a few exceptions. Mostly bars and restaurants. There is also a disconnect between businesses; not a sense of community or healthy competition you find in Hudson or Troy. Some businesses therefore merely sustain or provide the bare minimum for their purposes.
What Lark needs is more opportunities for people to browse and shop for things they want or need; daytime shopping and browsing. More storefronts offering interesting, quality products. Warren Street [in Hudson] is huge so it's not the best example, but almost every store is open and proud of what they're offering. Troy has change, life, electricity, activity. I don't see any of that on Lark. It's in a tough rut right now and we definitely contributed [when we closed the Crisan cafe], but we didn't cause it. We saw it happening a year ago.
Shauna Collins
Director of the Lark Street BID
The heart of Albany, Lark Street, continues to beat strong into 2016, as the efforts made by the Lark Street BID in the past 18 months look to continue to invest back into the Lark Street corridor. The BID has streamlined operations and trimmed significant budget expenses -- using those savings to be able to reinvest nearly $100,000 back into the corridor in 2016.
The BID, with its board and prospective investors into the corridor, are excited to announce the following updates as part of the first quarter of 2016 (based upon good-faith understanding and/or executed agreements).

+ New owner-operators for the former DeJohn's/Legends space and Justin's restaurant.
+ New construction at the corner of Madison Avenue and Lark Street (former Tandoor Palace location) is set to be complete. Building includes upscale apartments and a potential tenant has been secured for the first floor retail space.
+ A new coffee shop will open next to the Downtube on Madison Avenue.
+ The now-former Little Moon building has been purchased by the owners of El Loco's Mexican Café and will be converted for a commercial tenant in the next month.
+ The former Totem sushi bar will be turned into a new dining concept by the owners of El Mariachi Mexican Restaurant.
+ The former Spa Virgo space had been vacant for 30 days and now will be filled by a new spa.
+ The latter half of 2015 saw the opening of Lark + Lily, The Brakes Coffeehouse and Provisions, and Healthy on Lark, with TapAsia set to open in the near future. All four businesses are woman-owned and operated.
The BID's relationships with the surrounding neighborhood associations have also improved significantly as the BID seeks their input and partnerships on a number of BID events, including two private BID fundraisers taking place in February.
NEEDS:
The BID celebrates its twentieth anniversary in 2016. That being said, the Lark Street BID is one of the smallest BIDs, if not the smallest, in New York State and Lark Street's needs are no different than any other downtown. Grants, donations, reinvestment, and favorable zoning are of course critical to its survival. With that being said, and even with a number of closures on the street in 2015, commercial properties on Lark Street presently enjoy a nearly 94 percent occupancy rate.
The BID is actively involved with the city of Albany in its rezone initiative and anxiously awaits the results. Once released, Lark Street will be in a great spot and poised to take advantage of long-standing zoning inequalities that have hampered development on the street.
Many things in business are cyclical and Lark Street is no exception. With the impact of "the new cost of doing business" over the last 10 years, these economic downturns impact small businesses especially hard. In addition, a small business closing within such a small environment such as Lark Street will have a deeper ripple effect than a shopping center vacancy.
As we move forward we look forward to additional retail being added to the corridor. When inquiring, we often hear a need for an additional clothing store, a gourmet food shop, a gym, a yoga place, more options for artists to showcase their work, and of course more dining options. We could not agree more that Lark Street needs all of the above and are beyond optimistic that as our relationships grow we will entice new businesses to join us.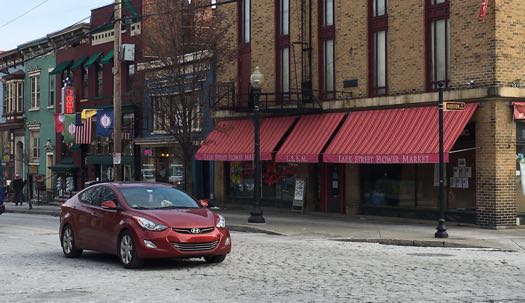 Rachelle Gonzalez
Florist/student
I think the loss of all the businesses that has been happening in the past few years is kind of sad to see. But I'm hoping younger people will start buying business and turn all the abandoned buildings into productive things for the community. The Brakes for example, and Stacks. It's just nice to see younger people buying businesses. It would be cool to have a grocery store -- and more clothing stores. It would be great to see more community activities -- music or art or even just food -- more good restaurants. I just went to Austin and noticed that almost every bar has a food truck attached to it -- it might be fun to see businesses working together that way. It would be cool to see more outdoor events, too. Not just two a year.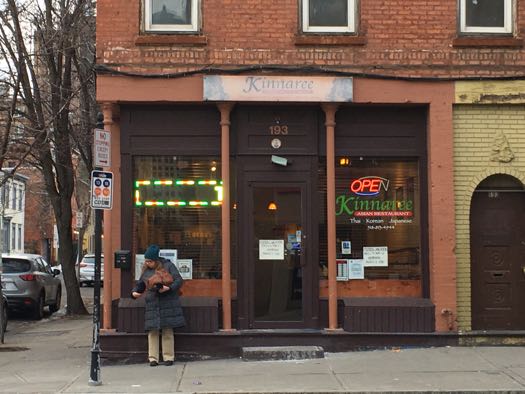 Jamaree Rajrawiwong
Owner of Kinnaree Asian Restaurant
Parking is very important. And more restaurants -- different kinds of restaurants. Maybe a fresh, healthy food cafe or a juice bar would be nice. And more security in this area. Sometimes our people have trouble with drunk people on the street. I know they try, but a little more security. Also we need someone to clean. Outside of my place is a bus stop and it gets very dirty. We all help, but it's not enough. People sometimes walk their dog and don't clean up after them.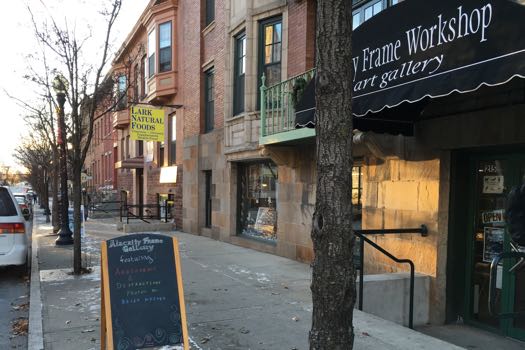 Sajid Memon
Owner of Lark Natural Foods
Recently we have seen more businesses open up and people are getting more health conscious and there are other healthy restaurants in the area. HighOffKicks closed next door to me. It's the second business that closed in a few years. We would like to see more stores -- maybe a fitness center nearby. I think that would be great. Parking is the number one problem. I can not rely on any other audience than just the neighborhood. If they could designate a couple of spots for the businesses -- it may be a crazy idea but it might help us.
Elissa Halloran
Owner of Elissa Halloran Designs
I think Lark Street needs a butcher, a baker, and a candlestick maker. No really -- a great bakery would be an excellent addition to the street. (I miss being able to walk into Crisan and get hot chocolate and a sweet.) A great gourmet food court in the old Key Bank -- like Quincy Market in Boston. I would love to have more retail, maybe some antique stores. Also, a nice neighborhood restaurant where you can have a burger and a beer (like DeJohn's used to be).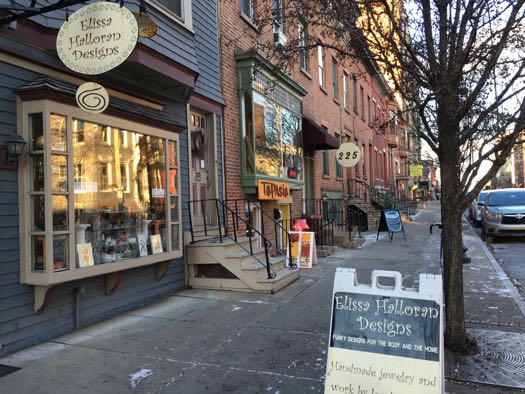 Right now, I see Lark Street as being in flux, but I think it is always morphing, always changing. I have been on the street for 15 years, and have seen many phases of the street. It is ripe for some innovative entrepreneurs to come in and start some new businesses. I think that is what makes Lark street exciting -- it is mostly small businesses, run by individuals instead of big companies. That is why I love it here, and I will stay here through thick and thin. I believe in Lark Street. I have found my livelihood here.
Bill Pettit
Neighborhood resident, president of the Washington Park Neighborhood Association
I moved to State Street in 1988. The difference between then and now is not all that wide. The bars and restaurants have all changed names and styles but, really, the buildings are still bars and restaurants. Upscale, downscale all in between. Sure, some go south -- Justin's and associated debacle as an example -- but others move up in scale. Lionheart has grown well. Nothing stays empty forever, count on that. The wineshop has gone from a metal shelf shit hole bum winery to something that is almost a treasure. Retail. Retail. Retail. Back in the early 80s there was more retail.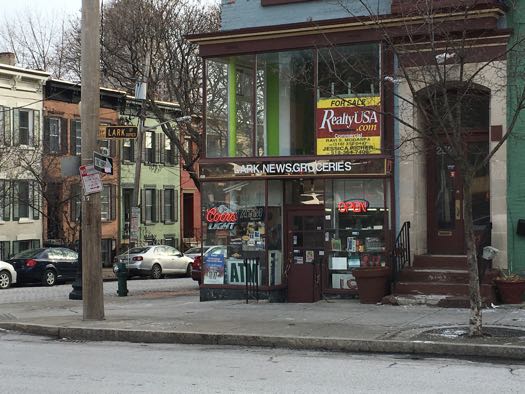 My 2 cents: It's fine as it is, was, and will be. It has never been what some people think it is or should be: trendy, fun shopping boutiquey place, just as it isn't and will never been what other people think it is: downhill, has been, urban declining, sad place. It is, has been, and will be -- Lark Street, Albany -- too small to be big and too big to ignore.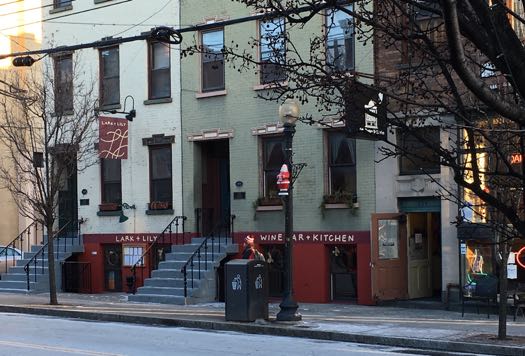 Silvia Lilly
Owner of Lark + Lily
In my 25+ years in Albany I've seen the ebb and flow of Lark Street, probably more than once. I've long wished that Lark Street could be pedestrian only during evening hours in summer to foster outdoor café seating and music al fresco. Grafton Street in Dublin has managed to do it and I think Albany could, too.
When I was in Nashville I was struck by how much parking was available -- pay lots and garages. I know parking isn't sexy or interesting, but if there were more spaces available maybe folks would be willing to stash their cars and enjoy the area on foot.
I've hoped for a satellite of the Honest Weight Food Co-op for a long time -- a convenient place for fruits, vegetables, and other grocery items and grab-and-go foods.
It seems to me that Lark Street's greatest asset is its neighborhood feel, it just isn't the night life destination it once was and I think that's ok. When compared to the Warehouse District or downtown, it's clearly a residential location primarily. Businesses who market to the neighborhood make the most sense to me.
Emily Ayers
Owner of The Brakes Coffeehouse & Provisions
I see Lark Street being taken back by neighborhood residents from a diverse array of socioeconomic spheres. Small businesses along the street are making an effort to support one another and to feature the work of local artists and artisans. I would love to see more businesses catering to area residents -- this is a wonderfully walkable neighborhood, but we lack some basic amenities. We could use a hardware store, a bookstore, a pet store, a bakery.
Jeremy Ward
Center Square resident
I have lived on or near Lark Street for 13 years now - longer than I have lived another place in my life. My hairdresser of 13 years, Steve O'Neill of Svengali Studios on Lark, recently noted that he has seen Lark Street go through two major changes during this time on the street of 20+ years. I agree with Steve that we are witnessing a change of epic proportions right now. It is exciting, sad and scary. I am very sad at the loss of some once great businesses that I frequented, I am scared of the change, but I am excited to see what the new incarnation of the area is. I think that right now, Lark Street is pretty directionless, but I am confident that it will find its footing soon.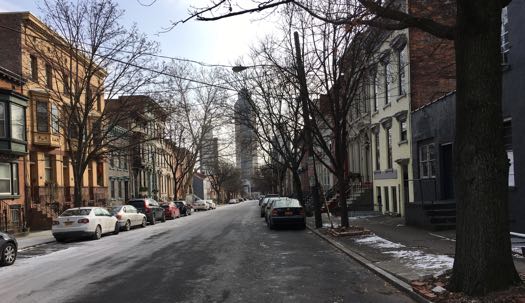 The addition of some new businesses such as Ocean on Lark, Brew, LAX, and the skate shop are fantastic. I think that this area is a meeting place for old and new, so I love the mesh of older businesses such as Romeo's and Ben & Jerry's. I hope that someone with some vision can reinvent Justin's and find a good use for the DeJohn's and Legends.
What I find interesting is that the dynamic of the people living on the street has changed over the past few years. It is much less of a gay-specific, single-person area into more of a family area (family being a relative term). Lark Street needs to attract a variety of different businesses -- not all bar or convenience stores. Lark Street needs to be a place where people want to come for a different experience -- not something people can experience anywhere else in town. I, personally, would love to see more live music, less restriction on entertainment, a small black box theater, and other performance arts.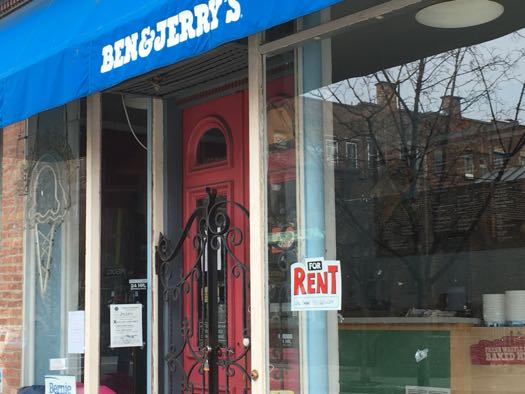 Richard Wilson
Owner of Ben & Jerry's on Lark Street
(Ben and Jerry's on Lark is closed due to a problem with the building and a landlord dispute and Wilson is expecting to open in a new space in Albany by March.)
I've always loved Lark Street and have been a resident in this area. We bought the business in 2010 with the anticipation that Lark Street would grow and evolve. We haven't seen that. We see the opposite. Businesses are leaving Lark Street. We haven't seen much help. You see people leaving, but not a lot of people coming into the area.
I'm optimistic that the focus will change. I love the artistic atmosphere of it, but I've also seen that decline. It used to be a very artistic, bustling, vibrant area. You don't see that anymore. I don't know how to fix that. Five restaurants closed and if we leave the neighborhood, that's another. But if I look at our sales over 30 years, you can see the cycles -- in the 90s there were peaks and valleys, but it's been pretty steady in recent years with not many people coming out and visiting the spot.
But hopefully we will see an upswing. I would like to see the restaurant spaces available. I'd like to see some higher-end restaurants with the Albany Med renovation. We'd like to see some places that will draw people into the area. I know Justin's used to be a jazz club -- if we could get something like that in the area it would be great. What we need are sustainable businesses -- brand name restaurants to draw people. When Subway came in and closed in a year or so that was a signal to us. A music scene, an artistic scene -- that's been on the decline. It's our little Greenwich Village in Albany -- it would be great to get it back to that.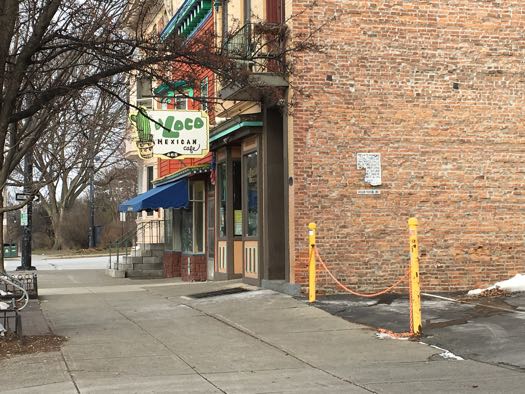 Patrick Noonan
Owner of El Loco Mexican Cafe, Lark Street BID chair
Lark Street is and always will be the "heart of Albany" and I wouldn't open a business or buy a property anywhere else in the Capital Region other than Lark Street. The vibrancy is still second to none, there is money to be made here, and the perfect audience exists here and only here.
With the purchase of my third property here last week, I now have over $1 million invested in the Lark Street corridor, and I'm not the only one. Mike Keller (Lionheart) obviously has over $3 million invested; Bilal Alp and Paul Doyle probably have tons invested. Kasim from PizzaRoni paid around $1 million for the building on the corner of Madison/Lark. The new building on the opposite corner is a multi-million-dollar project at this point. Mark Brogna is one the smartest business owners you'll meet and continues to commit much of his resources to ensuring this street remains great. In short, there continues to be significant investment in the street and this is still THE place to open. When Justin's closed, there were people lining up to take over that space. Lark Street is actually on a tremendous upswing and anyone that tells you different is not paying attention.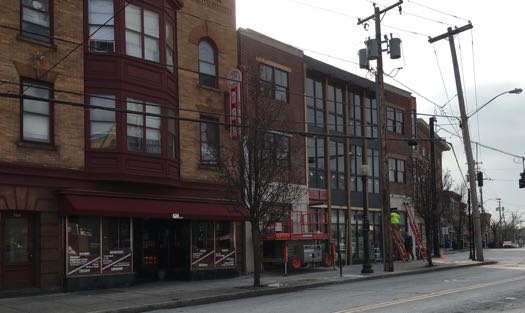 Like any downtown, Lark Street of course needs more financial backing in the form off grants and needs successful business to come occupy it's few remaining vacant storefronts. But what it really needs is more investors with energy to continue the great work presently being done by a number of business owners, neighbors and concerned citizens. Over half of the BID board is comprised of business owners under the age of 35 who are full of energy and working everyday to make this street great again. Whether you sell soup, soap, shingles, or spirits, this remains a great place to showcase it.
It also needs help with some decades-old zoning regulations so that we can be as effective and versatile as possible when recruiting new business and uses. The city planning department and mayor Sheehan have been tremendous resources and partners over the last year in making this a reality.
Lark Street also needs the support of its media partners to highlight the successes that are happening here and not focusing on the negative or "sexier" occurrences that neither the BID nor the neighboring business owners can control. Four successful woman-owned businesses opened on the street within the last four months and there was little to no press at those ribbon cuttings.
Lark Street is not "dead" because Key Bank wants to commit its resources to online banking rather than keep branches open. Lark Street is not "dead" because someone let DeJohns/Legends fall into disrepair. Lark Street is very much alive because of the people here that want to keep t alive.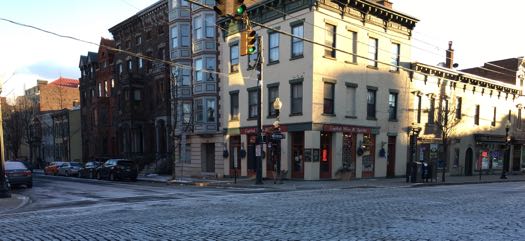 Mark Brogna
Owner of Capital Wine
After more than a decade of owning businesses on the street (Capital Wine and the Lark Street Book Shop), I see the Lark Street corridor as alive and well as I've ever seen it. I see new business activity, including TapAsia and Kanters Deli, and the resumption of construction on the commercial building at the corner of Lark and Madison. I have talked with other small retailers who would like to relocate to the street and are looking for appropriate spaces. I understand that there will be new owner/operators of the former DeJohn's/Legends and Justin's spaces. I also really like the new format of the 1st Friday events, with vendors and musicians on the street. It really does help bring people out. I am honestly excited to see what happens in 2016!
With all this activity, I would like to see the addition of more services that would help keep residents from having to leave the neighborhood to find what we cannot get here now -- a gym/fitness center, a green grocer, and a cheese store are all businesses this neighborhood craves and could strongly support. I'd also like to see existing businesses continue to show pride in their storefronts! It really helps make Lark Street a regional destination, a place to think of fondly and return to time and again. 
Ron Grieco
Owner of Stacks Espresso Bar
Anyone that is looking can see that Lark Street is dying -- sometimes slowly, sometimes quickly, but it certainly seems like Lark Street is dying. We need businesses back -- unique, cool businesses. I love that Brew opened and The Brakes is cool. Our sales have gone way up. Brew is also doing very well -- and they just sell beer and coffee.
Sometimes it feels like some of the landlords on Lark Street are shortsighted. There are places where rents are just going up or are really high to being with. It seems shortsighted for a landlord to say they want $2,000 a month so a business can't afford to start there or stay there. What happened at Ben & Jerry's is crazy. Lack of entry into an apartment to be able to fix something has caused a business to close down? That's crazy.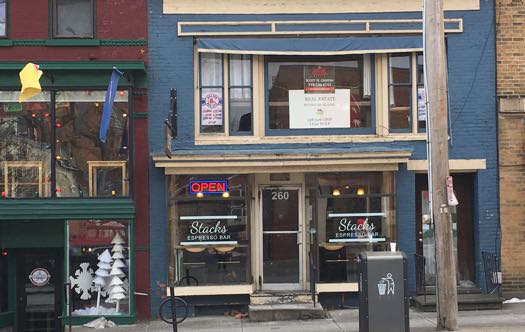 I think there is something to be said about taking a leaf out of the Downtown Troy booklet. The city of Troy seems to be bending over backwards for these new businesses to aid and assist and get them what they need. It doesn't feel like the city of Albany does that -- or sees the same value in a small business community as Troy. Everyone I know who has a small business in Albany talks about the ridiculous wait lists and red tape that drowns small businesses. Once you start paying rent you can't afford to be held up on permitting delays.
I think the Center Square area is good about supporting small business, but always trying to getting more people to support small business is important. This is our little village its an extremely supportive community. At Stacks 85 percent of our business is customers that we see five days a week at least. We know their names, their drinks, their kids, their dogs. I've lived in Albany over ten years and Lark Street is by far the most community-oriented, close-knit neighborhood I've been in.
I 'd like to see the city of Albany work harder to make things more streamlined for people who want to open a small businesses. It is hard to pinpoint. There are a lot of issues, but we have this beautiful little community and it's starting to really suffer.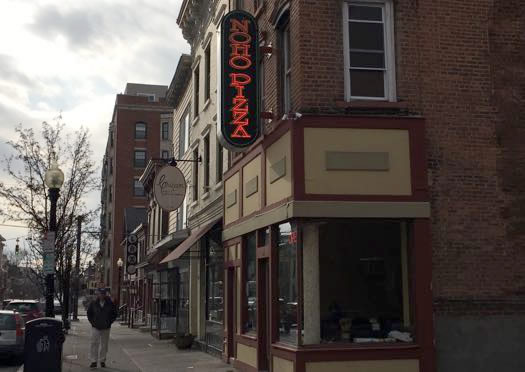 Adem Alp
Owner of NoHo Pizza
I definitely see Lark Street is not moving in the right direction. If there is someone in need, or a homeless person, they will end up on Lark Street. My brother and I both own businesses on Lark Street and business is going down. Justin's, Legends, DeJohn's -- these three businesses were probably bringing 30 percent of the business to Lark Street.
This street needs some different types of business -- a butcher shop or a place that sells vegetables only. There are not incentives at all for businesses. When I opened this place it cost me twice what I expected to get the certificate of occupation. And I am sure it is not only me -- most of the businesses on Lark Street have gone through something similar. It is not very clean... the street needs to be cleaned. I'm not saying the city has to clean it -- we need to get organized, the people who live and work in this area. We can get organized and help do it.
I just traveled to Europe -- Luxembourg, Amsterdam. Almost everywhere I went there would be Friday night entertainment in the town. It was a competition -- the best dancers or best musicians. We could close off part of Lark Street to foot traffic and we could turn it into a family-friendly entertainment destination -- if it's closed to traffic kids could run around.
And we need diverse businesses -- a grocery store selling only groceries. And also wireless spot on Lark Street because right now almost no one uses pay phones. You never know your charger may break or you need to use your phone. Someplace where you can charge it -- a small spot you can pay and get wireless for a limited time.
Mike Keller
Owner of The Lionheart Pub
The direction of the Lark Street area is kind of a problem because people have protected the area and made it a little Brooklyn or little Manhattan. It's like a little cove and it has been protected. I said this in a meeting and half the people took it as good comment and half took it as bad. It is a protected community, but the people protecting it aren't letting anybody in. It used to be that if you left a business on Lark Street, someone would take your place. But nobody is taking the place. We have more tattoo and ink shops per square mile than anywhere else. It's like they are not pro-business. The BID is very good. The neighborhood association and some other groups are not letting anyone come in and do things.
I can tell you this -- if I knew everything that was going on over there right now I wouldn't have bought the property that I bought. Troy and Schenectady are more than willing to help businesses out. The city of Albany is not. The BID is very good they want to try things. They just don't have any power. I definitely think the street needs a change in philosophy -- they have done a great job of protecting neighborhoods they built, but they don't want to let people do things and try things.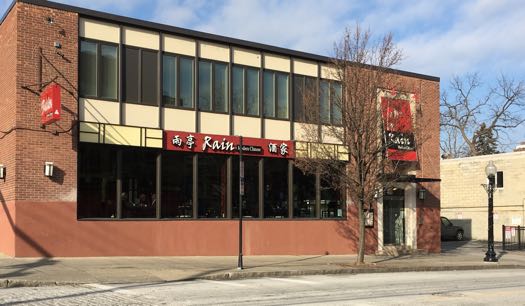 Frank Lee
Owner of Rain Modern Chinese
I would like to see more restaurants around here. More retail stores and more restaurants. I have no particular opinion on the direction it is going. It is looking well for me, my business is doing well. We just need more businesses to come. Not bars. We have a lot of bars here.
John Mongonia
Barista at Stacks
The current direction of Lark Street -- it seems to be waxing and waning at the same time. You see places closing and opening with almost the same frequency. I always thought of Metroland being reflective of what has gone on on Lark Street. I'm a musician so I always want to see more music. I saw Justin's from the end of its heyday to having DJs. Maybe the revitalization of the Fuze Box. Getting people away from the mindset that crossing Washington and that whole triangle over there is dangerous -- revitalizing the entry points.
Also the number one thing people always complain about is parking down here. We have to fix that. Otherwise it's like an insiders club here. We need to bring people in from outside the community. I always think the number one thing you can do to revitalize an area is to make it a place to settle a family down. I'm seeing more and more young families which is really cool, giving in to the urban lifestyle.
_____
Answers have been lightly edited.
Earlier on AOA: Lark Street, 35 years ago
Hi there. Comments have been closed for this item. Still have something to say? Contact us.