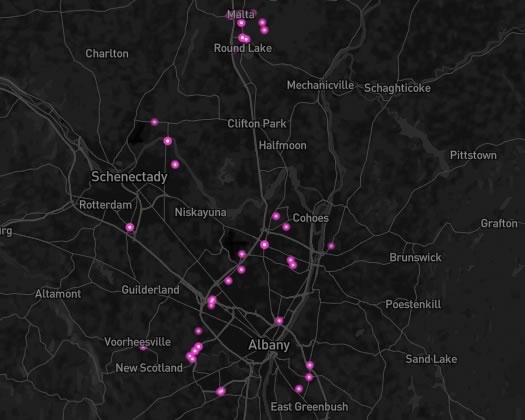 Something loopy for Friday afternoon: A map of all the roundabouts in the Capital Region -- and the world.
If click that link you'll head over to Mapbox where there's a movable, zoomable map. (The roundabouts are marked according to designations made in the OpenStreetMap.
Roundabouts have become pretty common in this area. There's Malta, of course. But they've also popped up in a lot of cities as towns, such as Colonie and Bethlehem.
While you're checking out the map, be sure to zoom out far enough so you can see Europe, especially England and Belgium.
There's research that indicates roundabout are safer than traditional "T" intersections, and they're also said to be more environmentally friendly because they cut down on the amount time vehicles spend idling at intersections.
(Thanks, Katy)
screengrab from Mapbox/OpenStreetMap map
Hi there. Comments have been closed for this item. Still have something to say? Contact us.