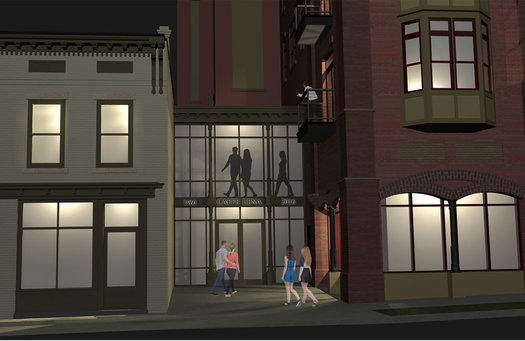 Caffe Lena announced today that it's worked out a $500k "philanthropic partnership" with Bonacio Construction in which Bonacio will get its parking lot next door for a new mixed-used building that will connect to the venue. (Here's the Google Streetview of that spot.)
Press release blurbage:
As part of the Campaign for Caffè Lena, Bonacio will assume the Caffè's parking lot at Phila and Henry Streets and construct a mixed-use building, which will feature an elevator and stairwell shared with the Caffè, at 47 Phila.
"This is transformational," says Caffè Lena Executive Director Sarah Craig. "Folk music is about inclusion, and we have been wanting to better serve our patrons and the community with an elevator since purchase of the building in 1998."
Additionally, with guidance from Frost Hurff Architects, the Caffè will begin long-planned major renovations, including: overhaul of the 47 Phila Street infrastructure; expansion of the listening room from 85 to 110 seats, with enhanced sightlines, sound and listener comfort; modernization and relocation of kitchen, green room, administrative and rest room spaces; and improvement of existing stairway.
The mixed-use building still has to go up for approval from the various city boards.
Caffe Lena says the work will be done with an effort to retain the feel of the venue. The Bonacio deal brings the Caffe Lena to $825,000 of the $1.25 million it's been raising for renovations. Thomas Dimopoulos has more details over at Saratoga Grid.
Construction is set to start in late spring with a grand re-opening planned for fall 2016. During construction Caffe Lena will be presenting programming at other venues around Saratoga Springs.