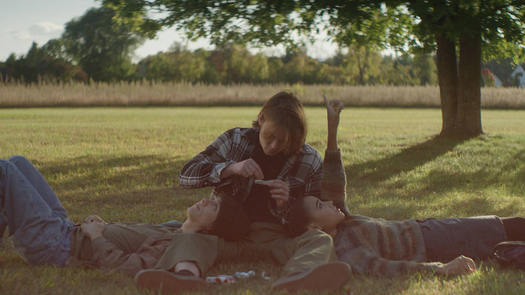 Updated with another review.
The movie As You Are -- which filmed in/around Albany last year, and is directed by Albany Free School grad Miles Joris-Peyrafitte -- debuted at the prestigious Sundance Film Festival this week. Here's a clip from the festival description:
Set in the early 1990s, As You Are unfolds as a series of disparate memories. Prompted by a police investigation, we witness alternating perspectives of pivotal moments in the relationship between three teenage friends: Jack, Mark, and Sarah. Bound by their aversion to the culture around them, Jack and Mark explore the limits of friendship and love until Mark's judgmental father tears them apart.
The film stars Owen Campbell, Charlie Heaton, Amandla Stenberg, Scott Cohen, John Scurti, and Mary Stuart Masterson.
There are already a handful of early reviews, so here's a quick scan...
Times Union: Amy Biancolli
But I found, watching "As You Are," that the movie's greatest strength is its rocky emotional landscape, the native intensity known and felt in the land of adolescence. Its residents speak a language not taught but inborn, the sort of rough, idiomatic shorthand of people who don't need to say much to communicate a universe of pain and confusion, desire and dreams.
The Hollywood Reporter: David Rooney
When news of Kurt Cobain's death is heard over a car radio in As You Are, the central character freaks, bolting from the vehicle for air. The anger, pain and solitude that coursed through so many of the tragic grunge hero's lyrics make the mention not just a marker of the film's early '90s setting, but an echo of factors that keep this melancholy youth drama's relationship triangle drawing together and pulling apart. First-time writer-director Miles Joris-Peyrafitte's plotting could be more muscular, but the film shades its confused tangle of friendship, love and desire with atmosphere, intimacy and a lingering sense of outsider yearning.
Variety: Geoff Berkshire
A promising and impressively self-assured debut for 23-year-old filmmaker Miles Joris-Peyrafitte, "As You Are" is crafted with the confidence and skill of a veteran, but also the youthful eye of someone not far removed from his protagonists. His sensitively wrought teen-angst drama has a timeless quality that makes its early-'90s setting feel simultaneously specific and universal. Far from an easy sell commercially, the pic deserves careful handling by a specialty distrib capable of connecting with younger auds bound to see themselves reflected in the characters.
Salt Lake Tribune: Sean P. Means
Director/co-writer Miles Joris-Peyrafitte reveals much of this in flashbacks, as told by the characters in videotaped interrogations by a (mostly) unseen police detective (John Scurti). We know something's up in the Jack/Tom/Sarah circle, and we're informed early on that gunplay is in the mix. A key piece of information Joris-Peyrafitte withholds isn't that tough to guess, which is in keeping with a slow-paced drama that thinks it's deeper than it is.
RogerEbert.com: Nick Allen
In his first feature film, Joris-Peyrafitte has an ambitious approach, sharing the progression of Mark and Jack's bond with confident, effective pacing. In time, "As You Are" settles in as a gripping epic, with characters in thorough arcs, while occupying a specific place with intricate existences. For a debut, it even earns its festival-risky 110-minute pacing.
FirstShowing.net: Alex Billington
This film is a tragedy - in the true sense of that word. It's very depressing, and sad, but depressing in a good way, if that's possible to imagine. I say that because it captures some very beautiful, intimate moments of connection among friends dealing with the hardship of young life. As You Are is the feature directorial debut of filmmaker Miles Joris-Peyrafitte, premiering at the 2016 Sundance Film Festival, and it will hopefully give Miles the break he needs to make more films - because he seems to be a very talented storyteller.