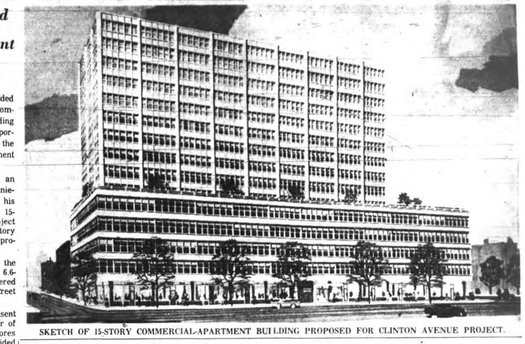 From the Annals of Projects Proposed But Not Built: While doing research for a different topic, we tripped over this 1963 Knickerbocker News article about a proposal for 15-story mixed-use building that been proposed for downtown Albany on the block of Clinton Ave just east of Pearl.
It caught our eye because, well, look at that rendering. And also because there are echoes today of some of the things people were saying about development in that spot more than a half-century ago.
The parcel of land bordered by Clinton, Broadway, Wilson, and Pearl had been cleared as part of an urban renewal program. And a developer, Fred Rosenblatt, proposed the building depicted above for the site -- it would have included retail on the street level, and then offices and residential on the floors above.
Rosenblatt seemed pretty keen on that area of downtown. In 1959 he had proposed a "modern, seven-story office building" on Clinton Ave across from the Palace. (The spot had been the site of another theater, the Grand, which had closed during the 50s.) Said Rosenblatt in a Knickerbocker News article about that project:
"We have noticed the remarkable shift in trends in many cities to move back to the downtown areas," he said. "As a matter of fact, suburban commercial developments are greatly dependent on downtown strength. Our survey is borne out in large communities in practically all parts of the nation."
"Samfred feels," Mr. Rosenblatt said, "it has acquired a prime downtown location. It is within two minutes walking time to downtown shopping and banking center -- a matter highly important in obtaining and retaining personnel."
But the project didn't come to pass. Nor would that other, later proposal for the next block down.
A little more than a year after the article about Rosenblatt proposing the 15-story building, the wheels were turning in Congress for approval of money for a new federal building at the site. And as, you know, that project did end up happening. The Leo O'Brien Federal Building -- O'Brien was the local Congressman at that time -- still stands there today.