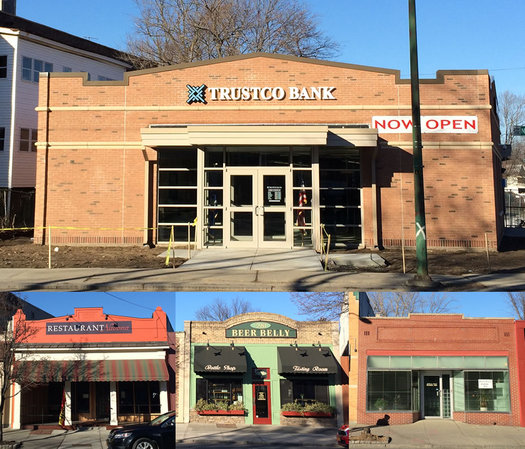 We end up talking about architecture and building design around here a lot -- and those discussions often trend toward people talking about things they don't like.
So, here's something we noticed recently that struck us as... good.
TrustCo recently replaced the building for its branch at New Scotland Ave and Ontario Street in Albany's Helderberg neighborhood. And the design of building's front facade echoes the look of facades on the longstanding commercial strip just down New Scotland on the other side of Ontario. See how the parapet* on the roof is a similar style. (Update: Thanks to Daniel N, it sounds like the word we should have used was fascia.)
The image above is the new bank building on top, with a few examples of the facades from the commercial strip below. Here's a larger version if you'd like to see more of the detail.
*We think we're using that term correctly. We're sure someone will (politely) correct us if we're not. (Update: And people have done so! Thank you!)
Hi there. Comments have been closed for this item. Still have something to say? Contact us.