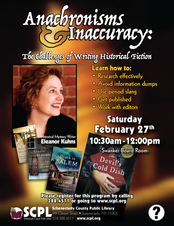 This could be interesting, even if you're not setting out to write a book: The Schenectady County Public Library is hosting an event called "Anachronisms & Inaccuracy: The Challenges of Writing Historical Fiction" with with historical mystery author Eleanor Kuhns. Topics-to-be-discussed blurbage:
+ Resources for research-from using Wikipedia to Writing software
+ How to avoid information dumps-working key historical facts into a narrative
+ Using period slang properly
+ Getting published
+ Working with editors
Heck, we'd be interested in a whole event about period slang. It'd be the bee's knees.
The event at the SCPL central library is Saturday, February 27 from 10:30 am-noon. It's free, but the library does ask that you pre-register.
Adult coloring book night: By the way, the SCPL's next adult coloring book night is Wednesday, February 10.