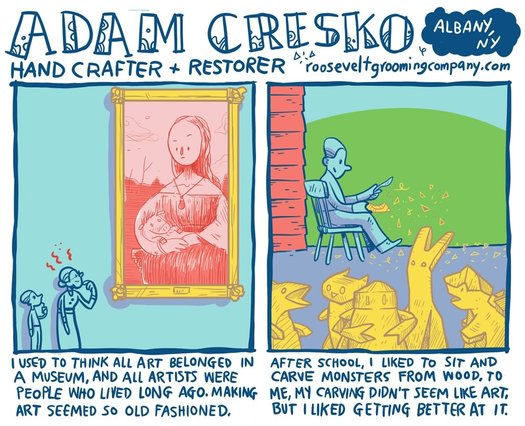 Check out these charming comic stories about real people and their creative work by Troy-based artist/writer/educator Ira Marcks. Each tiny story in Creative Everyday covers the general arc of the person's work, from when they were a kid to how it's become a part of their life today.
Blurbage:
Ira Marcks is drawing a comic to inspire kids to explore careers in Upstate NY's Creative Economy. The book is called Creative Everyday. With the help of the Workforce Development Institute and Capital Repertory Theatre's 'On The Go' School Tour, the book will be distributed for free to 10,000+ school kids around NY State.
Right now, Ira is collecting TRUE TALES from creative professionals about the triumphs, trials, and tribulations of ART & LIFE colliding.
If you have a story you'd like to share, Marcks has an online form for you to fill out.