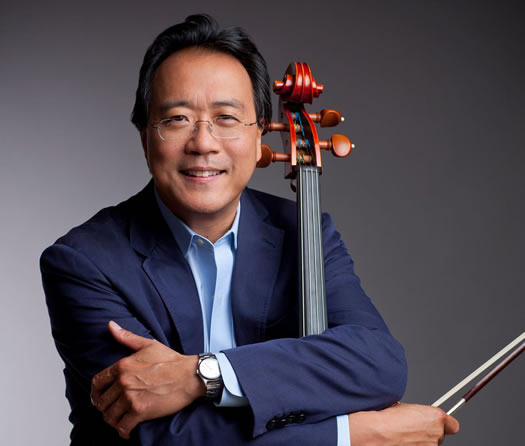 The scheduled for the next Albany Symphony season is out. It includes a concert with Yo-Yo Ma, a performance of Beethoven's 9th symphony (you know this one), and the premiere of an opera based on a novel by William Kennedy.
Tickets for many of the dates are available via a season subscription. (Individual date tickets will be available later on.)
The 2016-2017 season with the Albany Symphony's 87th -- and it will be the 25th season with David Alan Miller as music director.
Without further ado...
September 24: Opening Night Gala- Ravel & Sibelius at Palace Theater
David Alan Miller, Conductor
Saili Oak, Soprano
Natasha Paremski, Piano
Reena Esmail: "Aria" for Soprano and Orchestra
Ravel: Piano Concerto in G
Sibelius: Symphony No. 5
October 15: Roscoe: An American Grand Opera, by Evan Mack (World Premiere) at The Palace
David Alan Miller, Conductor
A new opera composed by Capital Region resident and Skidmore College Professor Evan Mack, based on the novel of the same name by Pulitzer Prize winning author William Kennedy.
October 22-23: Peer Gynt at Troy Savings Bank Music Hall
David Alan Miller, Conductor
Katherine Needleman, Oboe
Reznicek: Donna Diana Overture
Leroy Anderson: Three Pieces
Rouse: Oboe Concerto
Grieg: Peer Gynt, Suite No. 1
Tchaikovsky: Francesca da Rimini
November 19-20: Water Music & Schumann at Troy Savings Bank Music Hall
David Alan Miller, Conductor
Richard O'Neill, Viola
Handel: Selections from "The Water Music"
Theofanidis: Viola Concerto
Bermel: "A Shout, A Whisper, and a Trace"
Schumann: Symphony No. 4
December 8: An Evening with Yo-Yo Ma at The Palace*
David Alan Miller, Conductor
Yo-Yo Ma, Cello
Wagner, Prelude to "Die Meistersinger"
Dvorak, Serenade for Strings
Conor Brown, New Work (World Premiere)
Elgar, Cello Concerto
* Not part of the subscription series, but subscribers get first access to the tickets
January 7: Tchaikovsky's First Piano Concerto at The Palace
David Alan Miller, Conductor
Ilya Rashkovskiy, Piano
Barber: The School for Scandal Overture
Tchaikovsky: Piano Concerto No. 1
Corigliano: Symphony No. 1, "Of Rage and Remembrance"
February 18: Brahms' Fourth at The Palace
Karina Canellakis, Guest Conductor
Higdon: Dance Cards
Beethoven: Triple Concerto
Brahms: Symphony No. 4 in E minor
March 4-5: Mozart & Bach at Troy Savings Bank Music Hall
David Alan Miller, Conductor
Soloists from the Vocal Division of Bard College-Conservatory
Mozart: Symphony No, 40 in G minor
Torke: Three Concertinos for Solo Instruments and Orchestra (World Premiere)
Bach: Cantata No. 78 "Jesu, der du meine Seele"
April 9: Beethoven's 9th at The Palace
David Alan Miller, Conductor
Albany Pro Musica
Tower: Fanfare for the Uncommon Woman, No. 6
Tsontakis: 25th Anniversary Commission (World Premiere)
Beethoven: Symphony No. 9 in D minor ("Choral")
May 18-21: American Music Festival
A weekend of innovative new works by living American composers, artistic happenings, and special events across Troy, including performances by the Albany Symphony and the Dogs of Desire.
May 21: American Music Festival at EMPAC
David Alan Miller Conductor
Chee-Yun, Violin
Shankar Tucker, Clarinet
Harbison: Partita for Orchestra
Theofanidis: Violin Concerto
Reena Esmail: Clarinet Concerto (World Premiere)
Mellon Young Composer: New Work (World Premiere)
____
Earlier on AOA:
+ Another Grammy nomination for Albany Symphony Orchestra
+ Grammy winners David Alan Miller and the Albany Symphony Orchestra, the little symphony that could
photo via Yo-Yo Ma FB