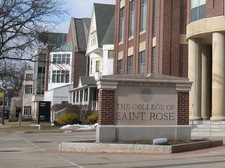 The full-time faculty at the College of Saint Rose issued a no-confidence vote in college president Carolyn Stefanco Wednesday. The vote stems from the college's move to cut 23 full-time tenure and tenure-track faculty positions in December, along with eliminating a range of academic programs.
The org representing faculty said 158 of approximately 200 eligible faculty cast votes -- 120 for "no confidence," 35 against, and three abstained. The result will be delivered to the college's board of trustees this Friday along with a petition calling for Stefanco to rescind the cuts or resign.
It sounds like the college administration knew this was a likely outcome. Leading up to Wednesday Stefanco gave interviews indicating her intent to the stay the course regardless of the vote. And after the vote the college issued a statement from Stefanco that read in part:
While some faculty members embrace and support constructive change at Saint Rose, others resist it. Regardless of our personal feelings, we share a solemn responsibility to make the changes necessary to meet the changing needs of our students.
I will proudly continue to lead Saint Rose, working alongside our trustees, staff, administration and those members of the faculty who support the efforts to improve our financial standing, increase our enrollment and chart a course for a strong future.
Back in December when it announced the cuts, Saint Rose cited a $9 million deficit and a 16 percent decline in enrollment since 2008. (For some context, the college had a $121 million budget in 2013, according to its 990 form.) It said about four percent of the college's 4,400 students were enrolled in the programs that would be eliminated (12 programs had no students).
This is clearly a hard situation -- especially if you're one of the people losing your job. Cutting tenured faculty positions is a serious act for a college. It's a painful measure to take.
There's also clearly passionate disagreement between the administration and many members of the faculty about how to handle the situation. If you're connected with someone from Saint Rose on Facebook or some other social network you've probably seen spillover from the exchanges. On top of the difficult issues at hand there's the question of whether the faculty and administration will be able to work together when it's all over.
The surrounding city also has a stake here. The Saint Rose campus is knitted tightly into the mid-section of Albany -- especially so over the last decade as the college has acquired/built more buildings and the line between campus and neighborhood has blurred. Of course, there are also all the people -- students, staff, faculty -- who live and work and otherwise are involved around the city. If Saint Rose falters in some way, Albany will feel it, too.

Hi there. Comments have been closed for this item. Still have something to say? Contact us.