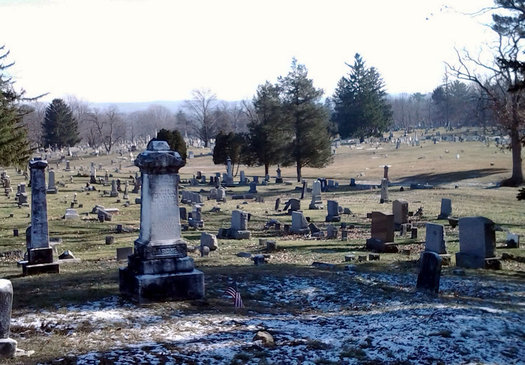 By Paula Lemire
Mention the Albany Rural Cemetery and the most common response is, "Oh, that's where President Arthur is buried!"
Its 467 acres contain the graves of governors, mayors, soldiers, actors, bankers, and poets, as well as works of monumental art by Erastus Dow Palmer, Robert Launitz, and Charles Calverley.
Buried here, too, are dozens of prominent figures in Albany's African-American history -- from slaves to doctors.
Here are the stories of some of those Albany residents...
Born Before The Revolution
An Albany Daily Evening Times article from 1873 reported on the death and funeral of a woman named Diana Mingo who, at 106 years (or, according to some sources, 105 years and 6 months), was said to be the oldest person buried in The Rural to date. Born in Schodack as the slave of Matthew Beekman, she was reportedly freed before New York State's gradual emancipation began in 1799. For a time, she worked as a cook for the Van Rensselaer family at their manor house in Albany.
Mingo was well known among her friends and neighbors for her vivid recollections of the Revolution and Lafayette's celebrated visit to Albany in 1825. She died on July 25, 1872 and her funeral was held at the African Methodist Episcopal Church on Hamilton Street. Attendance was so great that mourners overflowed the pews and sat on the pulpit steps. She was buried on the cemetery's North Ridge in a lot owned by her niece, Mary G. Jackson. Her grave is not marked. (Lot 8, Section 99)
Soldier of the Revolution
Benjamin Lattimore, a leading member of Albany's post-Revolution African-American community and founder of the A.M.E. Church, was born a free man in Weathersfield, Connecticut in 1761. He was living in Ulster County, New York at the beginning of the Revolution and helped his family operate a ferry there. The fifteen-year old Lattimore enlisted in the Ulster County militia in September 1776. He took part in the battle for Manhattan and, a year later, was captured by the British at Fort Montgomery near West Point. Relegated to the role of a servant by British officers, Lattimore was recovered by the Americans in Westchester County and returned to service in the Continental Army. In 1779, he visited Albany for the first time when his regiment, en route to the Schoharie and Mohawk Valleys, was forced by ice to remain in the city for two weeks.
In 1794, Lattimore settled in Albany and found employment as a licensed cartman. Within five years, he had purchased several lots in the area of South Pearl Street, as well as a two-story brick home at 9 Plain Street (an area now covered by the Times Union Center). Described as a man of "irreproachable character for integrity and uprightness," Lattimore became a pillar of early Albany's middle class black community; he was a founding member of the Albany African Temperance Society, the first black school. This veteran of the Revolution died in April 1838 and was buried at the State Street Burying Grounds. His remains were moved to the Church Grounds section of the Rural Cemetery during the mass disinterment of the Burying Grounds in 1868. His headstone, and that of his wife are now missing. (Lot 14, Section 49)
The Two Adam Blakes
Beginning in slavery, the first Adam Blake's life spanned from the Revolutionary War to the middle of the Civil War. Born in New York City around 1773, he was brought to Albany while still young, where he was a servant to Stephen Van Rensselaer III. As an adult, he would become manager of the household staff at the Van Rensselaer Manor. Until it was abolished by the city in 1811, he presided as the master of ceremonies of the popular Pinkster celebrations held by Albany's black community each spring on what is now Capitol Hill. He also took part in the grand ceremonies welcoming Lafayette on his return visit to Albany in 1824, shielding the elderly French patriot from the sun with an umbrella at all times during the procession through the city. He was also one of the first depositors on record with the Albany Savings Bank after its founding in 1820. Adam Blake married Sarah Richards in 1803.
When Blake died at the age of 94 in 1864, the first Adam Blake was remembered as a "remarkable man" who "commanded respect by that high order of good breeding and courtesy to all, for which he was proverbial." Stephen Van Rensselaer IV sent a message to his funeral at the Old Dutch Church to express regret that his own ill health preventing him from paying his respects in public.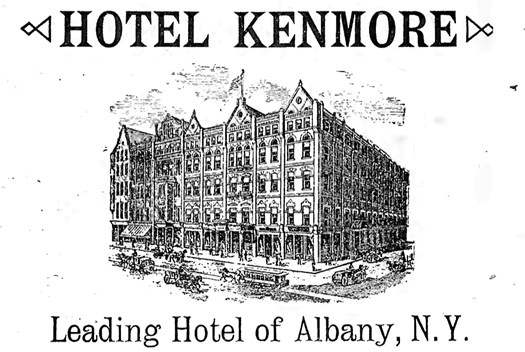 The younger Adam Blake would found the Kenmore Hotel on Pearl Street. This is an 1893 ad for the Kenmore from the Appletons' General Guide to the United States and Canada.
According to his obituary, the younger Adam Blake was an adopted son. Raised at the Van Rensselaer Manor, where he received his early schooling alongside the Van Rensselaer children, he would later be regarded as one of the most successful black businessmen of his era. Described as "a born hotel owner" who took to the profession as instinctively "as a fish takes to water," he first went to work as a porter in the famous Delavan House and was eventually promoted to head-waiter there. He rapidly built his reputation as a restaurant proprietor with the opening of his own establishment on Beaver Street in 1851. Well-known as "a first-class caterer for the public," he became the owner of Congress Hall, a notable Albany hotel heavily used for lodgings, meals, and meetings by countless politicians during the state's legislative sessions. Congress Hall, which stood at the corner of Washington Avenue and Park Street near both the old State Capitol and City Hall, ranked with the Delavan House as one of the leading Albany hotels of its era.

In 1878, Congress Hall was demolished by the state to make way for the construction of the new State Capitol. With the money he received in compensation for the building, Blake established the Kenmore Hotel at the corner of North Pearl and Columbia Streets. Designed by architect Edward Ogden, Blake's new hotel would be described as "the most elegant structure on the finest street in Albany." He managed the hotel until his death in 1881. Known as a generous man "who never turned away a stranger or neighbor in need, he left an estate valued at $100,000 when he died. And his widow, Catherine, successfully managed the Kenmore herself until 1887. Adam Blake II was buried in his family lot at the Rural Cemetery and memorialized with a stained glass window at the Israel African Methodist Episcopal Church on Hamilton Street. (Lot 22, Section 42)
The Riverboat Captain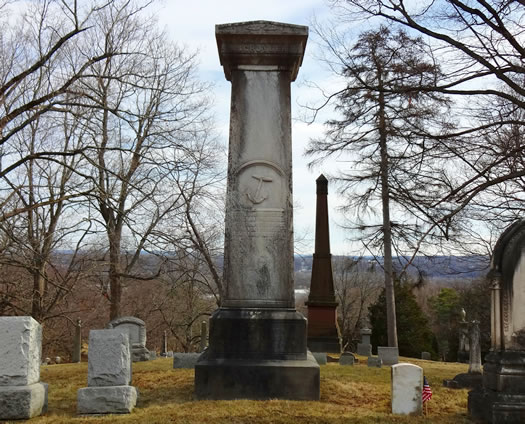 A towering marble monument on the Middle Ridge overlooking the Cemetery chapel is carved with large anchors which, in this instance, symbolize both faith and the deceased's profession -- Samuel Schuyler was a successful riverboat captain. He was born in 1781, but little is known of his origins or of his connection (if any) to the family of General Philip Schuyler.
Samuel Schuyler worked as a laborer along the city's riverfront before operating his own towboat on the Hudson. Widely respected as a captain on the river, he also invested well in real estate in what is now Albany's South End, eventually owning much of a two-block parcel between South Pearl Street and the Hudson River. With his sons he established a hay and feed business, Samuel Schuyler & Company at Franklin and Bassett Streets, as well as a coal yard.
Captain Schuyler died in 1842. His sons would continue doing business on the river with the founding of the Schuyler Towboat Company. (Lot 66, Section 59)
A Physician and Inventor
Thomas Elkins, born in 1819, was one of the few black doctors in Albany during the 19th century. According to an 1897 edition of The Druggists' Circular and Chemists' Gazette, Elkins received his early apothecary training under one Dr. Wynkoop, "a physician and druggist of the old school," before studying dentistry and surgery. He operated a pharmacy on 84 North Swan Street and, later, at Broadway and Livingston Avenue.

During the years prior to the Civil War, Elkins -- who lived at 186 Lumber Street Avenue (now Livingston Avenue) -- was active with the Underground Railroad in Albany as member of its Vigilance Committee. At the time, the home of Stephen and Harriet Myers, just a half dozen houses away at 198 Lumber Street, was a center for Underground Railroad and abolitionist activity in Albany.
According to the Bicentennial History of Albany, Dr. Elkins served as a medical examiner attached to the 54th Massachusetts regiment during the Civil War. He also traveled to Liberia, bringing home a collection of minerals, shells, and other artifacts. The location of those relics is now, unfortunately, unknown.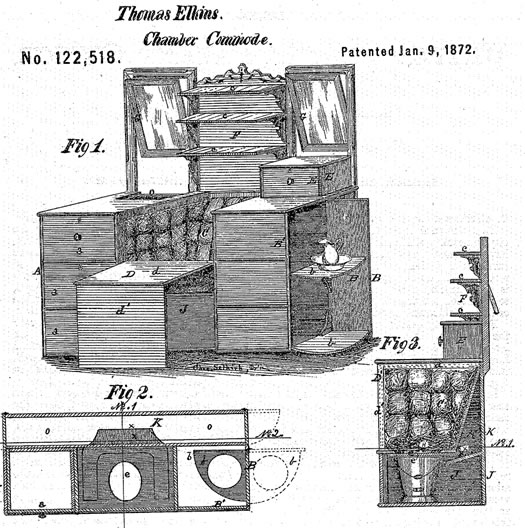 An inventor as well as a doctor, Elkins patented a special refrigerator for the cold storage of corpses, as well as a large piece of furniture which combined a toilet or commode with a washstand, bureau, mirror, chair, bookshelf, and table. In a similar vein, he also patented a combined quilting frame, ironing table, and dining table. Elkins received a "certificate of highest merit" from the New York Agricultural Society for the refrigerator and a "certificate of merit" for the combination table. He was also one of only two African-Americans to be pictured in Albany's Centennial Historic Album and served as vice-president of the Albany Literary Association.
Dr. Thomas Elkins died in 1900 and his funeral, presided over by the canon of the Cathedral of All Saints, was attended by a large number of prominent local citizens. (Lot 97, Section 100)
Lost At Sea
In a lot just a few feet from the grave of Dr. Elkins, a tall, simple marble shaft plot bears the name Jacob F. Benjamin, the phrase "LOST AT SEA," and a date -- December 25, 1853. It was on that Christmas when the San Francisco, a vessel from the Pacific Mail Steamship Company, encountered a terrible gale and foundered near Charleston. The ship had left New York and was bound for Panama. Aboard were both soldiers (the ship was transporting the Third Regiment of the United States Artillery) and civilian passengers, including women and children. The decks were swept with wind and water, the smokestacks toppled, the boats lost. Reports of the total casualties varied, but some contemporary newspapers reported about 300 casualties and 150 saved.
Among those reported dead that night was a man simply identified as "The barber, colored, washed overboard." It was Jacob F. Benjamin who, that same year, had been listed in the Albany city directory as a barber residing at 111 Knox Street. His body was not recovered, but his name was carved on the marble shaft in a family plot deeded to his wife, Abigail. At the time of his death, they had five children who ranged in age from an infant (his father's namesake) to 11 years old. Jacob was thirty-five when he was lost to the waves. His daughter, Catherine, would marry the younger Adam Blake. (Lot 94, Section 100)
A Civil War Veteran Honored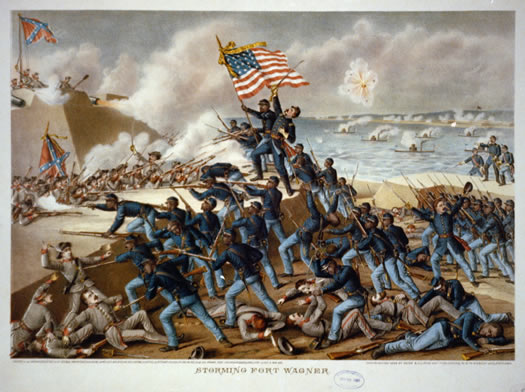 A lithograph of the 54th storming Fort Wagner. / via Wikipedia
Among over 900 Civil War soldiers buried at Albany Rural are several men who served in the 54th Massachusetts Volunteer Infantry, the unit depicted in the 1989 film Glory. One of them was William A. Francis, whose grave remained unmarked for 112 years.
There are very few details of Francis' life, though records show he was an Albany waiter, about 30 years old, married, and the father of a two-year old son when he joined the 54th. He would take part in all of the unit's battles, including the bloody 1863 clash at Fort Wagner in South Carolina. He became the 54th second highest ranking black member, second to Master Sergeant Lewis Douglass (son of abolitionist Frederick Douglass).
William Francis returned to Albany and again took work as a waiter. He died on December 2, 1897. In 2009, thanks to the efforts of local historian Mark Bodnar, funds were raised by Civil War re-enactors to mark Francis' burial place with a military headstone. (Single Grave, #, Tier 4, Section 111).
Others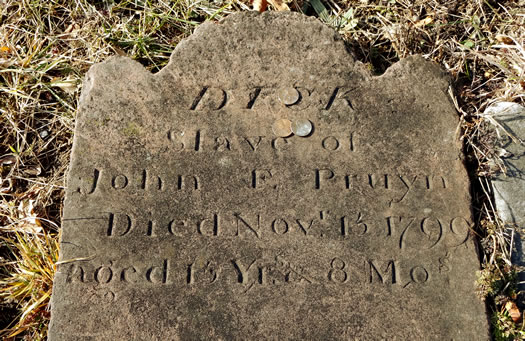 Other African-American residents of Albany buried at the Albany Rural Cemetery include Stephen and Harriet Myers, leaders of Albany's Underground Railroad community (Lot 2, Section 98), Arabella Chapman Miller and family, subjects of a University of Michigan research project, (Lot 448, Section 104), William H. Topp, a tailor active with the Vigilance Committee (Lot 25, Section 11), and Dick, whose grave marker describes him as a slave of the well-known merchant John F. Pruyn (Lot 14, Section 49).
A Presidential Postscript
In 1853, Elizabeth Jennings Graham, an African-American teacher and church organist, was refused a seat on a lower Manhattan omnibus operated by the Third Avenue Railroad Company. When she refused to get off the horse-drawn streetcar the conductor had her removed by the police. Graham filed suit against the company which owned the streetcar. The jury found in her favor, awarded her damages, and the Third Avenue Railroad Company immediately desegregated its streetcars. Her lead attorney was future President Chester A. Arthur.
____
Paula Lemire is the creator of Albany Rural - Beyond The Graves on Facebook.
Say Something!
We'd really like you to take part in the conversation here at All Over Albany. But we do have a few rules here. Don't worry, they're easy. The first: be kind. The second: treat everyone else with the same respect you'd like to see in return. Cool? Great, post away. Comments are moderated so it might take a little while for your comment to show up. Thanks for being patient.