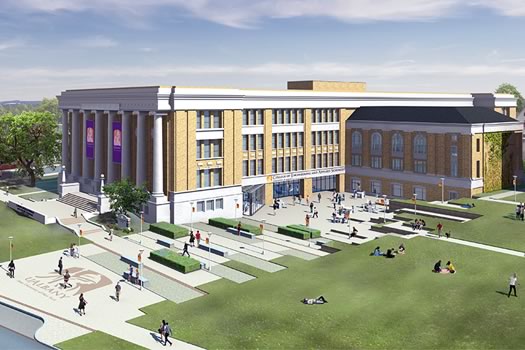 UAlbany has formally announced its intent to turn the convert a former Albany school building next to its downtown campus into the home for the new College of Engineering and Applied Sciences. The university is seeking $20 million in the state budget to get started on the project, which it says will ultimately cost $60 million.
The building is on the western end of UAlbany's downtown campus, between Western and Washington avenues at North Lake. UAlbany bought the building from the Albany school district a few years back. It had originally served as (the second version of) Albany High School, and then Philip Schuyler Elementary.
Press release blurbage:
All told, the $60 million project will create 127,000 square feet of classroom, research and office space with capacity for more than 1,000 students and 180 faculty and researchers. It will also create a dynamic new community resource, including a 1,000-seat auditorium, space for new collaborations with local schools and community organizations, including a "Summer Science Saturday" program, and other opportunities.
UAlbany president Robert Jones said the new engineering college is "at the center of our vision for UAlbany as we create the largest--and most strategic--academic expansion in fifty years." Two years ago Jones said UAlbany was starting the college in attempt to be more competitive in attracting students. (That also happened to be around the time the College of Nanoscale Science and Engineering split to become its own institution, which is now SUNY Poly.)
If the project goes through, it'll be interesting to see how affects the surrounding area. UAlbany already has presence there, of course -- the Rockefeller College of Public Affairs & Policy and other programs are based there -- but the new college is a potentially significant addition of people and activity.
The press release included bits about the "comprehensive vision" for the engineering college, which include a maker space and improving the North Lake Ave-Ontario Street corridor. The full list is after the jump, if you're curious.
In all, the new CEAS is part of a comprehensive vision to:
+ Expand UAlbany's capacity to helping solve society's critical challenges such as clean water, renewable energy, medicine, cyber-security, climate change and more;
+ Strengthen the region's only public research university by broadening its offerings available to its diverse student body;
+ Provide students with broad and diverse offerings so they are best prepared to thrive in the ever-changing 21st Century economy;
+ Increase opportunities for cutting-edge research and other investments at the University and in the region;
+ Help local businesses through increased campus activity;
+ Expand and support the arts;
+ Create new partnerships and programs with local K-12 schools, Albany Medical Center, Hudson Valley + Community College, Albany Law School, Albany College of Pharmacy and others;
+ Create "maker space" where local entrepreneurs can meet and develop ideas for new products; and
+ Improve Albany's North Lake Ave-Ontario Street corridor with new mass transit and other improvements pending a comprehensive corridor study by the City and UAlbany.
Hi there. Comments have been closed for this item. Still have something to say? Contact us.