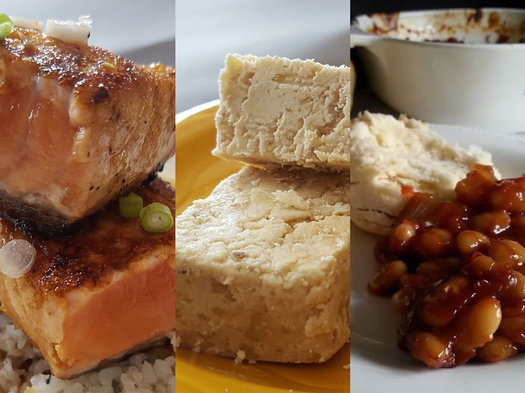 By Deanna Fox
The coming weekend is the last Maple Weekend for 2016. Sure, you could purchase maple syrup year-round at local markets, but there is something charming about traveling to a local sugar house to buy that gallon of syrup to get you through the year. It feels so quintessentially Upstate.
Pancakes are great. Arguably, waffles are better for the syrup-lovers among us. (All those little wells for syrup!) But there is more to maple than just topping your breakfast food. The smoky, rich flavor from maple syrup is taste that is hard to replicate and lends to the overall character of many meat recipes, side dishes, or sweet endings.
Here are a few ideas -- beyond pancakes and waffles -- for using all that maple syrup.

Choosing syrup
Gone are the days of Grade A Fancy or Grade B syrup. Now, syrup is listed as follows:
+ Golden Color: The lightest version of maple, best used for your pancakes, light cooking applications (like marinating delicate fish or vinaigrettes)
+ Amber Color: Darker than golden but still light enough to be used in most applications
+ Dark Color: The darkest you'll probably want to use for home cooking and baking, or for pancakes and waffles. Smoky and sweet with a rich maple flavor
+ Very Dark Color: Deeply mahogany to the point of nearly black, this is best saved for more industrial uses (like homebrewing a maple porter)
Think of the new grading system like dairy: Skim milk, 2%, whole milk, and heavy cream. Whichever style you choose, give maple a go for your next recipe.
(Quick note: In many recipes, maple can be swapped out for more traditional brown sugar. If you decide to substitute maple syrup for white sugar, be aware that it will definitely change the flavor of the end product. In baking, maple can easily replace agave, honey, or molasses, but might alter the texture and consistency of pastries, doughs, and batters. Don't hesitate to experiment, though!)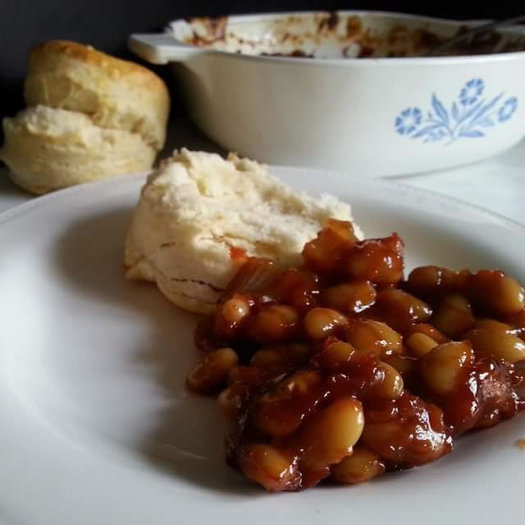 Maple Bacon Baked Beans
Makes six servings
INGREDIENTS
2 cups ketchup
1/2 cup dark maple syrup
1 1/2 tablespoons Dijon mustard
1/4 cup bourbon
1/4 cup apple cider vinegar
1 tablespoon Worcestershire sauce
1/2 teaspoon salt
2 (19 ounce) cans Navy, Cannellini or White beans, rinsed and drained (4 cups)
1 medium onion, cut into thin slices
6 slices of bacon
METHOD
Preheat oven to 400℉.
Stir together ketchup, brown sugar, molasses, mustard, bourbon, vinegar, Worcestershire sauce, and salt in a bowl. Gently stir in beans and transfer to a two-quart shallow baking dish.
Arrange the onion slices in a single layer over the beans mixture, then top with the bacon. Bake, uncovered, until the bacon is brown and the beans have absorbed most of the liquid. This will probably take 1 1/4 hours. Serve warm or at room temperature.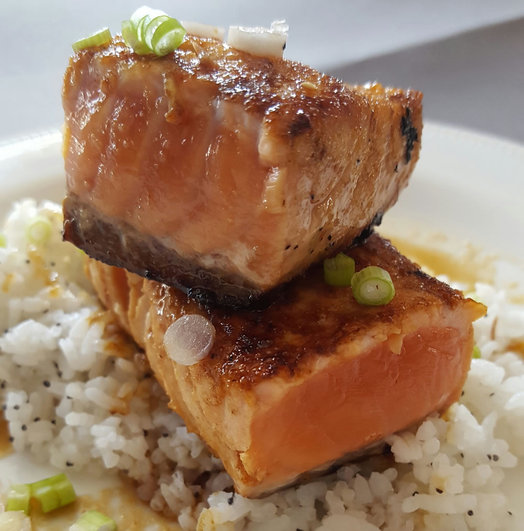 Maple-Soy Glazed Salmon
Makes four servings
INGREDIENTS
1/2 cup maple syrup
4 tablespoons soy sauce (low-sodium, if available)
2 cloves garlic, minced
Kosher salt and fresh black pepper, to taste
4 (6-ounce) salmon filets, skin-on
Olive oil
Sliced scallions, to garnish
METHOD
In a small mixing bowl, mixed together the maple syrup, soy sauce, and garlic. Season with kosher salt and fresh black pepper, to taste. (If your soy sauce is not low-sodium, be careful not to over-salt.) Pour about one-third of the mixture into a separate bowl. Set aside.
Place a large, heavy-bottomed skillet over medium to medium-high heat. Add enough olive oil to lightly coat the skillet. Once the skillet has been heated, place the salmon filets skin side down in the skillet and brush the tops of the flesh with the majority of the maple-soy mixture. Cook the salmon for about four minutes. The fish should release easily from the skillet, if not, allow to cook for 30 seconds more. Add a bit more olive oil to the skillet, then flip the salmon, reduce the heat to medium or medium-low, and cook on the flesh side for about four more minutes. (Thicker cuts of salmon will require a few additional minutes of cooking time. Use a thin spatula to help release the fish from the skillet.) Brush the skins with a bit of the glaze.
Once the salmon flesh seems opaque, remove from the skillet and serve immediately with some of the reserved glaze drizzled on top and a sprinkling of scallions.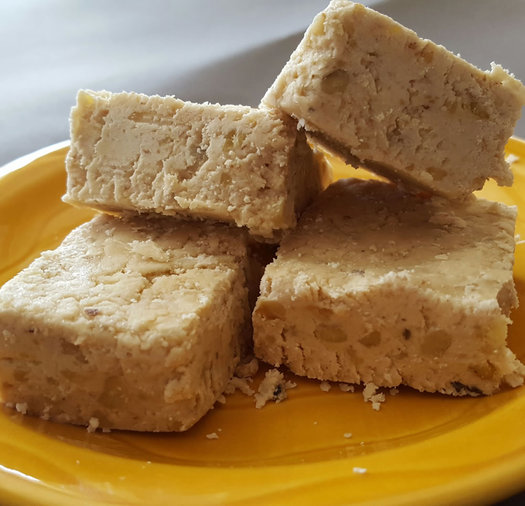 Maple Walnut Fudge
Makes 18 pieces
INGREDIENTS
2 cups white sugar
2 cups maple syrup
2 tablespoons light corn syrup
1/2 cup heavy cream
1/2 cup milk
1 1/2 teaspoons kosher salt
1 tablespoon vanilla extract
2 cups (8 ounces) chopped walnuts, toasted (optional)
Butter, to grease a pan
METHOD
In a heavy-bottomed, medium saucepan, combine the sugar, maple syrup, corn syrup, cream, milk, and kosher salt. Cook over medium heat until the mixture reaches 236℉ on a candy thermometer. Be sure to stir constantly to prevent hot spots and burns. Once it reaches temperature, add in the vanilla and stir to combine. (Be careful, it will bubble and sputter at you.)
Pour the mixture into a 9x13" baking pan and allow it to cool at room temperature for 20 minutes. Do not stir! The mixture should reach 120℉.
Scrape the mixture into a large mixing bowl or the bowl of a stand mixer and add the walnuts. Mix together for 3 minutes (with a mixer) or 6 minutes (by hand with a wooden spoon), or until the fudge mixture has lost its shine and appears dull.
Lightly butter a 9" square baking pan, then pour the fudge mixture into the pan and spread evenly. Allow the fudge to sit for at least an hour at room temperature before cutting into 1" squares. (A knife warmed with hot water will help make clean cuts.) Store in an airtight container at room temperature. (Can also be frozen or kept in the refrigerator.)
Deanna Fox writes about many things, mostly about food. More can be found on her website, Twitter, or Instagram.
Say Something!
We'd really like you to take part in the conversation here at All Over Albany. But we do have a few rules here. Don't worry, they're easy. The first: be kind. The second: treat everyone else with the same respect you'd like to see in return. Cool? Great, post away. Comments are moderated so it might take a little while for your comment to show up. Thanks for being patient.