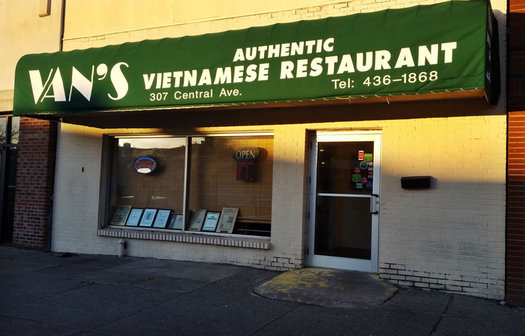 By Cristin Steding
Veg Out is short series about vegan dining options around the Capital Region.
Has there ever been a restaurant you've wanted to try for ages but never get around to? Someplace you know you'd love, but put off trying because you know you'll be there all the time once you finally go?
For me, that place is Van's Vietnamese Restaurant in Albany.
When I asked for suggestions of where to go for vegan food in the Capital Region, Van's was consistently one of the top answers given. I love all spicy foods, especially when they involve noodles, so I was pretty excited to give Van's a try. But for some reason, it took me months from hearing about Van's to actually try it. Perhaps it's because, as many fellow Trojans can attest, with so many great restaurants within walking distance of downtown Troy, it can be easy to never venture out to Albany for food. Or maybe I'm just lazy.
Whatever the reason, I finally made the pilgrimage, and man, was it worth it.
Van's is located in an unassuming building on Central Ave in Albany, wedged between a currency exchange and a bodega. It's the type of place that's easy to drive by a couple times without even knowing you've missed it.
Inside, the restaurant is spacious and quiet. The walls feature huge framed landscape photos and the tables have cloth napkins and tablecloths. The servers are friendly and attentive.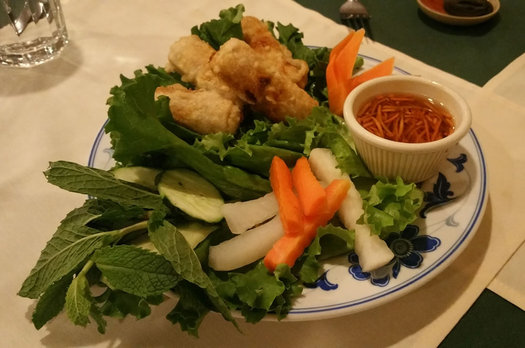 I decided to start with the fried vegetable spring rolls (Cha Gio Chay). They came out hot and fresh from the kitchen with a salad's worth of garnish. The shell of the rolls are light and crispy and inside they are filled with fresh carrots, cellophane noodles, and tofu. Overall, the rolls are sweet and peppery to taste and are served with a sweet, thin dipping sauce.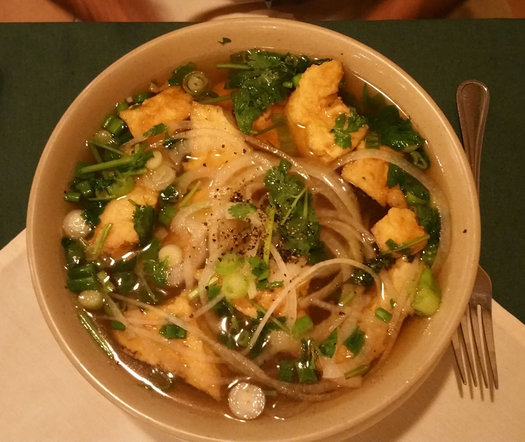 Next up was vegetarian pho. (If you're vegetarian or vegan, make sure to order the vegetarian broth, because there is a tofu pho that is served with beef broth.) The vegetarian pho is some seriously hearty soup. Unlike some less satisfying soups that leave you fishing around for noodles and pieces of tofu but mostly consist of broth, this qualifies as a full meal with leftovers.
The pho broth is very strongly flavored with cilantro and scallions and isn't spicy at all. This dish is jam packed with rice noodles, huge chunks of fried tofu and thin, noodle-like slices of onion. It's the kind of soup that could cure a head cold.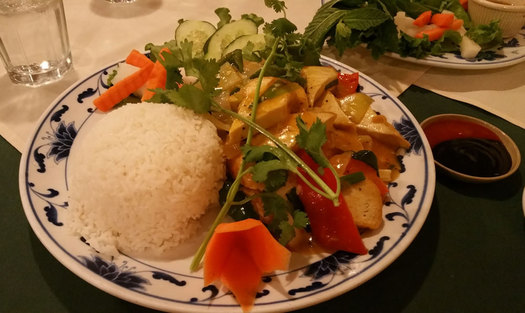 I also tried the spicy sauteed tofu (Dau Khuon Xao Xa Ot). As a vegan that likes to eat out and cook, I've had a lot of different preparations of tofu. Fried, marinated, baked, sauteed -- I thought I knew what good tofu was. I was wrong. The sauteed tofu at Van's is without a doubt the most perfectly prepared tofu I've ever had. It was firm but not mushy and seared on the outside but not tough. I can't say enough good things about the texture.
The bell peppers and onions in the sauce with the tofu were fresh and still crunchy. Based on looks alone, you'd expect the sauce to be syrupy sweet but that is (fortunately) not the case. It's light and fresh with a slight lemon undertone. My only complaint with the sauce is that it left a little to be desired in the spicy category. When something has spicy right in the name, it's expected it's going to be pretty hot. In this case, while the sauce was very mild and tasty, spicy it was not.
And let's talk portions for a minute. This could have easily fed three people on its own. The portion is so enormous that even after eating until I was stuffed, it looked like it had just come out of the kitchen. So when you see the prices on the menu, keep in mind you're getting at least double what one person could reasonably eat in one sitting.
I shared the two main dishes with my dining companion and we left with at least two more meals worth of food. I know for sure I'll be coming back to Van's, but not until I finish these leftovers.
Cristin Steding lives in Troy and spends most of her free time eating and driving to the High Peaks. You can find her on Twitter and Instagram
Find It
Van's Vietnamese Restaurant
307 Central Ave
Albany, NY 12206
Say Something!
We'd really like you to take part in the conversation here at All Over Albany. But we do have a few rules here. Don't worry, they're easy. The first: be kind. The second: treat everyone else with the same respect you'd like to see in return. Cool? Great, post away. Comments are moderated so it might take a little while for your comment to show up. Thanks for being patient.