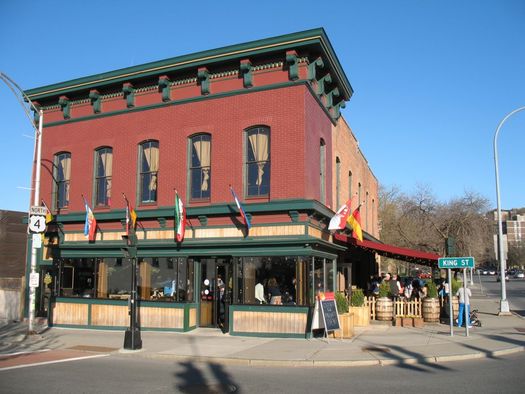 The newest Wolff's Biergarten opens today in Troy in the King Street location formerly occupied by a Bombers Burrito Bar franchise, just off the eastern side of the Green Island Bridge.
The restaurant group headed by Matt Baumgartner and partners took over this location after the franchise owners decided to stop operating last fall. While assessing the situation they decided to switch the concept from Bombers to Wolff's. They also added a new concept upstairs that location -- Troy Cantina -- focused on tacos and tequila.
This is the group's fourth Wolff's, joining locations in Albany, Schenectady, and Syracuse.
We stopped by Wednesday to get a look at the transformation of the space, and talk with Matt Baumgartner for a few minutes about making the switch, plans for more biergartens in other cities, and how he picks out opportunities.
Photos
Look up: they've above in large format -- click or scroll all the way up.
Talking with Matt Baumgartner
Why switch this location from a Bombers to a Wolff's
Once [the Bombers] closed, everybody sort of had preconceived notions as to why. And everybody had their unique experience when they were here at the Troy location, whether it was good or bad. I just felt a lot of pressure to close down and then bring people back into Bombers. And it just seemed stressful. And opening up a biergarten felt really like a good idea because we had just done it in Schenectady, just done it in Syracuse, and we were in a good rhythm of knowing every box to check to open up a biergarten. It just felt like an easier, more fun bar to own at this point.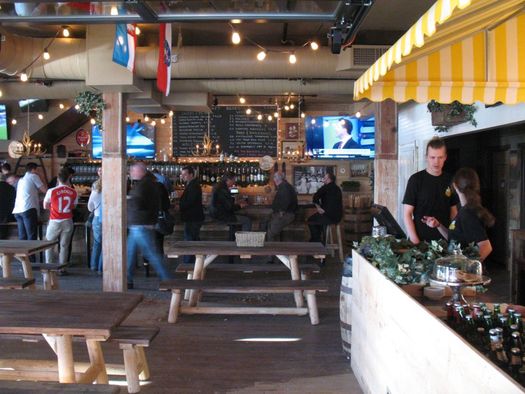 Do you see this biergarten concept as something you could spread to even more places?
I think the plan is to open a few more. Ideally, I'd like to do one a year if that's possible, but I'm not sure if that's realistic.
Do you have your eye on certain places?
I would love to look at Buffalo. I would like to look at Columbus, Ohio. I would like to look at Charlotte. I would kind of like to see what it would be like to have a restaurant in a really big population city.
Aside from a big population center, are there characteristics that you're looking for in these places?
I think having a city that has a big grad school is really great -- even a big college student population is good. Having more foreign people in the city is great because of the soccer aspect of the biergarten. Ideally, it'd be great if there was a soccer team [in the city]. I would think that if a soccer team moved to that city, they've done a lot of research that would indicate there's a lot of people who'd want to see a soccer team. So I would think there'd be a lot of people who want to go to a bar that really shows a lot of soccer. So that type of city is what we're looking at.
And then just a populated, fun city that I would want to travel to seems like a good idea. I don't know. I don't really do too much research other than what seems like a good fit.
It's interesting that you see soccer as marker of opportunity.
I think so. Even though this place has focused on soccer since the first day we opened our doors, it still doesn't feel like there are other places that have done that, which is surprising to me given that it feels like we're really busy all the time. So that, to me, suggests there's still an opportunity to open up bars that show soccer.
And the combination of the biergarten with soccer is a good, solid combination.
And it seems like soccer is on the rise culturally here.
Yeah, it's been like that since I was a kid. So I don't feel nervous about continuing to open up soccer [places] considering where it's heading, especially with ratings on TV. It keeps getting bigger and bigger every year.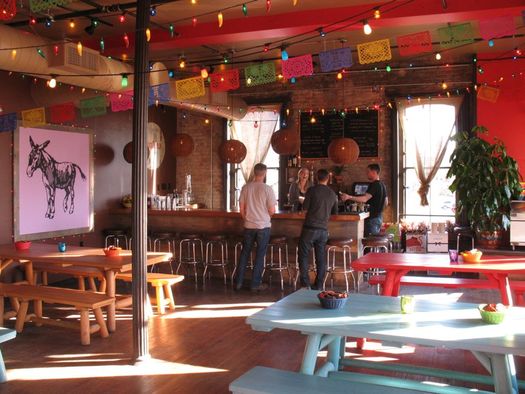 Troy Cantina is upstairs. What's the story with that?
We had a private space up there. I didn't feel like we needed to have a separate space with the biergarten because, for me, part of the fun in the biergarten is everyone kind of cramming in and watching the game together, so I didn't want to split that. And we don't really get too many requests, like we do at Bombers, for private parties at the biergarten because people just sort of show up and drink at the table.
But I thought it would be fun to have a separate concept that may appeal to people who don't want to drink German beer or eat sausages. (smiling) And I do know that people like tacos and tequila, so I thought I would try something different [up there]. And I also wanted to be respectful to the folks that owned Bombers before and not open up a Bombers in that space, and do something new.
Do you still opportunities for other Bombers in other locations?
Oh, for sure. Jimmy [Vann] -- who I basically run Bombers with, that's his division -- is taking that and running with it. Hopefully there's an opportunity for us to move in to the [Empire State] Plaza and do some vending there. And Oneonta's still on the table, they're trying to close on that building -- that was something that was supposed to happen this summer. It's an actual franchise and we're still talking to those guys.
But for me, I'm personally enjoying the biergarten experience even though Bombers is a bigger business sales-wise. I feel more comfortable with the biergarten at this point.
When you look at business opportunities, is that something you just follow your gut on, what you personally will like?
I think so. I mean, Syracuse I grew up going to because I grew up pretty much between Utica and Syracuse, so I was there a lot. Schenectady, I went to school there, so I was familiar with that city. Albany obviously I'm familiar with.
So I don't feel as comfortable moving to those other cities [mentioned before]. But I'm hoping the population of them would translate to a successful business. I feel confident with the brand itself. But not knowing what the city's really like, I just would like to know that I'm spending time in a city that would feel like an enjoyable experience.
And I would really like to see what Buffalo has to offer -- I hear it's really booming. I have family in Pittsburgh, I'd like to look at Pittsburgh. I love Charlotte, I'd love to look at Charlotte.
So how do you that? Do you just go and hang out?
I usually call a realtor and say I'm coming out for like a week. And then we go there and go out to eat and drink and meet people and ask them if they think it's a good idea, and then take it from there.
I'm very, very decisive. I could go out there next week and say let's do it. I don't really spend a lot of time going back and forth. I just feel like life is short, let's do it.
This interview has been lightly edited and condensed.
Find It
Wolff's Biergarten and Troy Cantina
2 King Street
Troy, NY 12180
Say Something!
We'd really like you to take part in the conversation here at All Over Albany. But we do have a few rules here. Don't worry, they're easy. The first: be kind. The second: treat everyone else with the same respect you'd like to see in return. Cool? Great, post away. Comments are moderated so it might take a little while for your comment to show up. Thanks for being patient.