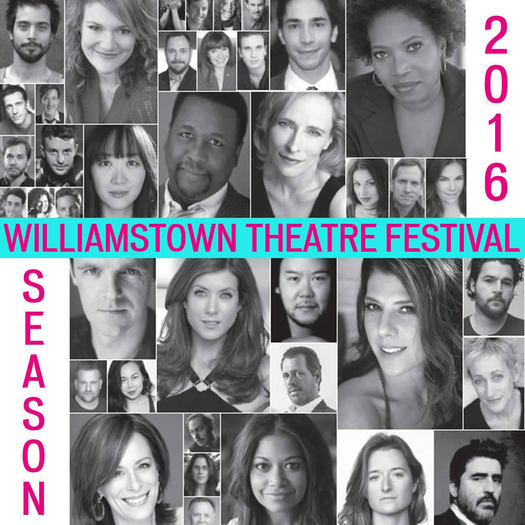 There are new details out this week about the upcoming slate of shows for this summer's Williamstown Theatre Festival. As usual, the casts include actors you'll recognize, such as Marisa Tomei, Kate Walsh, Alfred Molina, Jane Kaczmarek, Wendell Pierce, and Justin Long.
In recent years WTF has also served as a launching point for shows headed toward Broadway. So it's notable that this summer's schedule includes four world premieres and one American premiere. It's possible one (or more) of these shows could end up on Broadway in the next few years.
Also: Single-show tickets are now available for pre-order online. (You can also save some money per ticket by buying tickets in multiple show bundles.) Many of these performances sell out, so if you're interested in going, it's a good idea to buy tickets sooner rather than later.
OK, let's have a look at the schedule.
All blurbage from WTF. There will be additional casting announcements, and along with cabaret shows and other special events, as summer approaches.
Main Stage
June 28-July 17: The Rose Tattoo
By Tennessee Williams; directed by Trip Cullman With: Christopher Abbott, Katie Lee Hill, Lindsay Mendez, Darren Pettie, Will Pullen, Constance Shulman, and Marisa Tomei Obie Award winner Trip Cullman directs Academy Award winner Marisa Tomei in this new production of Pulitzer Prize winner Tennessee Williams' intoxicating comedy, which won the Tony Award for Best Play in 1951. After retreating in grief, widow Serafina (Tomei) revives and rejoins the world when the hot-blooded trucker Alvaro (Christopher Abbott) arrives at her doorstep. Passion, gossip, music and mystery fill the air in this steamy Gulf Coast town, where possibility and promise ignite.
July 20-July 31: Romance Novels For Dummies (world premiere)
By Boo Killebrew; directed by Moritz von Stuelpnagel
With: Justin Long, Connie Ray, and Andrew Weems
Sisters Liz and Bernie couldn't be more different: Liz is a good, Southern stay-at-home mom; Bernie is a flailing actress smoking and swearing her way through New York City. But when Liz is suddenly widowed, she and her young daughter move in with Bernie to start again. While Bernie challenges all of Liz's assumptions about life, love and raising a child, Liz goes out on a series of internet dates which eclipse the grief, fear and gentility she's known for so long. Can Liz compel her own story to end like a romance novel? Tony Award nominee Moritz von Stuelpnagel directs this new comedy by Boo Killebrew, which asks us to imagine how we might handle the curve-balls -- big and small -- that life throws us.
August 3-August 21: An American Daughter
By Wendy Wasserstein; directed by Evan Cabnet
With: Saidah Arrika Ekulona, Grace Gummer, Roe Hartrampf, Stephen Kunken, Darren Pettie, Will Pullen, Deborah Rush, and Kate Walsh
When the President of the United States nominates Dr. Lyssa Dent Hughes (Kate Walsh) to the position of Surgeon General, the excavation of her past triggers a scandal that threatens her confirmation. As partisan politics play out, Lyssa's deep personal relationships and impressive career trajectory hang in the balance. Evan Cabnet directs Pulitzer Prize and Tony Award winner Wendy Wasserstein's prescient 1997 play about the cost one woman pays when she dares to have it all.
Nikos Stage
June 29-July 10: Cost of Living
(world premiere) By Martyna Majok; directed by Jo Bonney With: Gregg Mozgala, Rebecca Naomi Jones, and Wendell Pierce Obie Award winner Jo Bonney directs Martyna Majok's play about four very different people, in four very different circumstances, each trying to get by. Eddie (Wendell Pierce), an unemployed truck driver, reunites with his ex-wife Ani after she suffers a devastating accident. John (Gregg Mozgala), a brilliant and witty doctoral student, hires over-worked Jess (Rebecca Naomi Jones) as a caregiver. As their lives intersect, Majok's play delves into the chasm between abundance and need and explores the space where bodies -- abled and disabled -- meet each other.
July 13-July 23: The Chinese Room
(world premiere) By Michael West; directed by James Macdonald with Carson Elrod, Sue Jean Kim, Brían F. O'Byrne, and Laila Robins Obie Award winner James Macdonald directs this sci-fi comedy thriller by Irish playwright Michael West. A visionary in the field of Artificial Intelligence, Frank (Brían F. O'Byrne) has built a humandroid to preserve his wife Lily's (Laila Robins) memory -- because she is losing hers. But when he is ousted from the company he founded, he must race to save his life's work. As Frank scrambles to protect his property, his legacy and the technology he invented, the play examines how far we will go to preserve what we love.
July 27-August 7: Poster Boy
(world premiere) Music and Lyrics by Craig Carnelia, Book by Joe Tracz; movement by Danny Mefford; directed by Stafford Arima With: Jerry Dixon, Katie Lee Hill, Jose Llana, Stephen Wallem, and Noah Zachary Inspired by actual events surrounding the 2010 suicide of Tyler Clementi, a college student who brought national attention to cyber-bullying, Poster Boy is a new American musical by Tony Award-nominated composer Craig Carnelia and playwright Joe Tracz. A community of gay men in an online chat room come together to discover what drove one of their own to take his life. Directed by Olivier Award nominee Stafford Arima with movement by Danny Mefford, this provocative and moving new musical lays bare the complexity of protecting our privacy, identity and humanity in the digital era.
August 10-August 21: And No More Shall We Part
(American premiere) By Tom Holloway; directed by Anne Kauffman With Alfred Molina and Jane Kaczmarek Obie Award winner Anne Kauffman directs Tony and Emmy Award nominee Alfred Molina and Golden Globe and Emmy Award nominee Jane Kaczmarek in this intense and intimate drama by Australian playwright Tom Holloway. When Pam (Kaczmarek) becomes terminally ill, she and her husband Don (Molina) must face the most difficult decision yet in their long and loving marriage. With passion, fear, strength and even humor, they grapple with how, and if, to say goodbye.
poster image via WTF
Say Something!
We'd really like you to take part in the conversation here at All Over Albany. But we do have a few rules here. Don't worry, they're easy. The first: be kind. The second: treat everyone else with the same respect you'd like to see in return. Cool? Great, post away. Comments are moderated so it might take a little while for your comment to show up. Thanks for being patient.